Photographer Gift Guide for 2023
Y'all! I'm not even going to dance around it: when I started listing ridiculous tee shirt designs in the spring of 2022, I had literally no idea that I'd be sitting at the very same desk a year and a half later writing up a photographer gift guide for 2023 based 100% on my own products. Like, kind of cheesy, right?! But more than that? It's incredible! This has been SUCH a fun project and, while I used to be a little embarrassed that I dedicated so much time learning how to do design work in Canva, now I'm basically buzzing with excitement about all I've been able to create the past eighteen months.
While my Etsy shop focuses mostly on bookish + history merch, it started out as a spot for photographer gifts!
And because photography is, like, the closest thing to my heart besides my fam, I'm so excited to show these cute gifts off!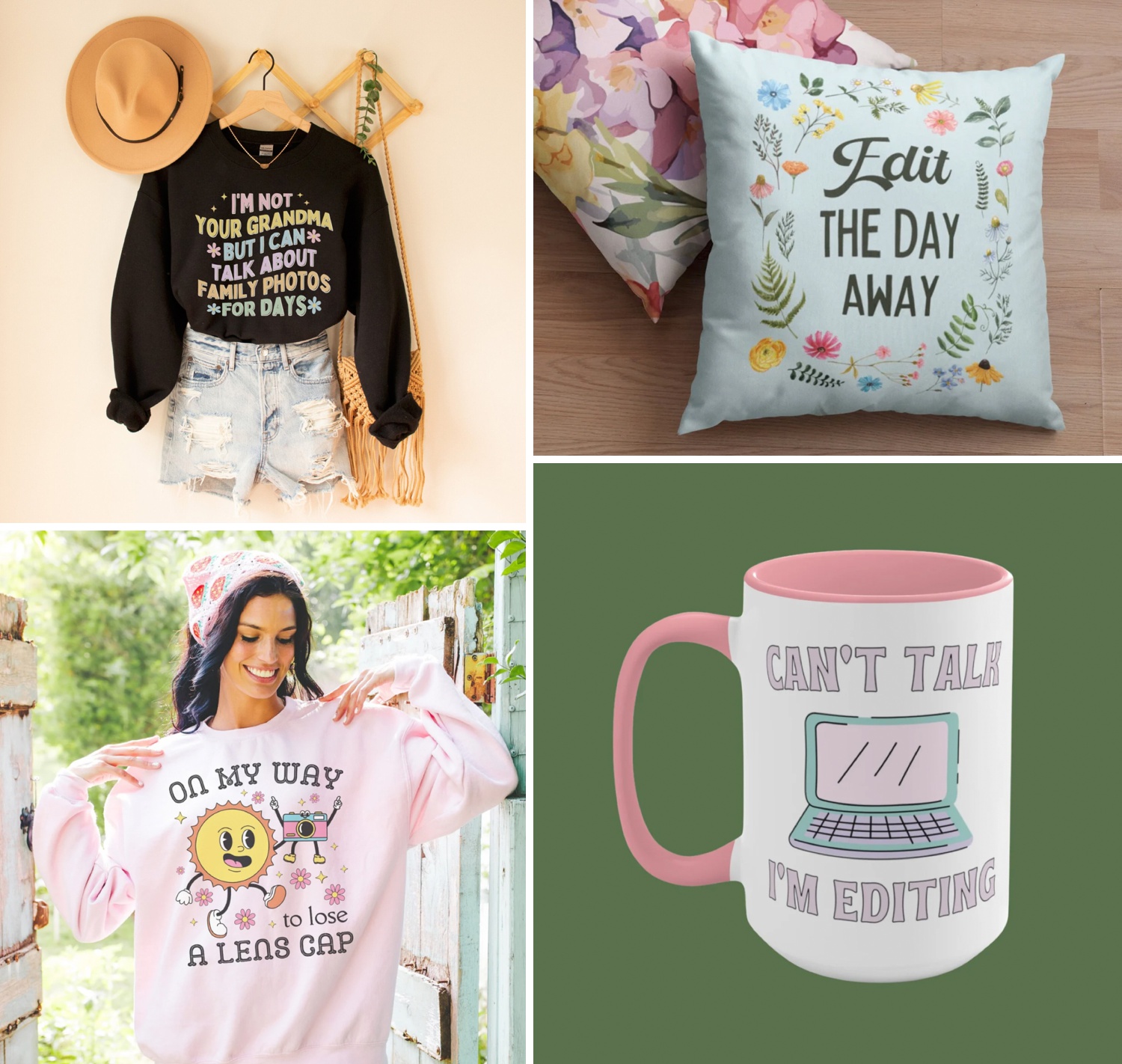 Links to the Above Items!
Not Your Grandma: Sweatshirt + Tee Shirt + Pillow
Edit The Day Away: Pillow + Sweatshirt
On My Way To Lose A Lens Cap: Sweatshirt + Pillow
Can't Talk, I'm Editing: 15 Oz Coffee Mug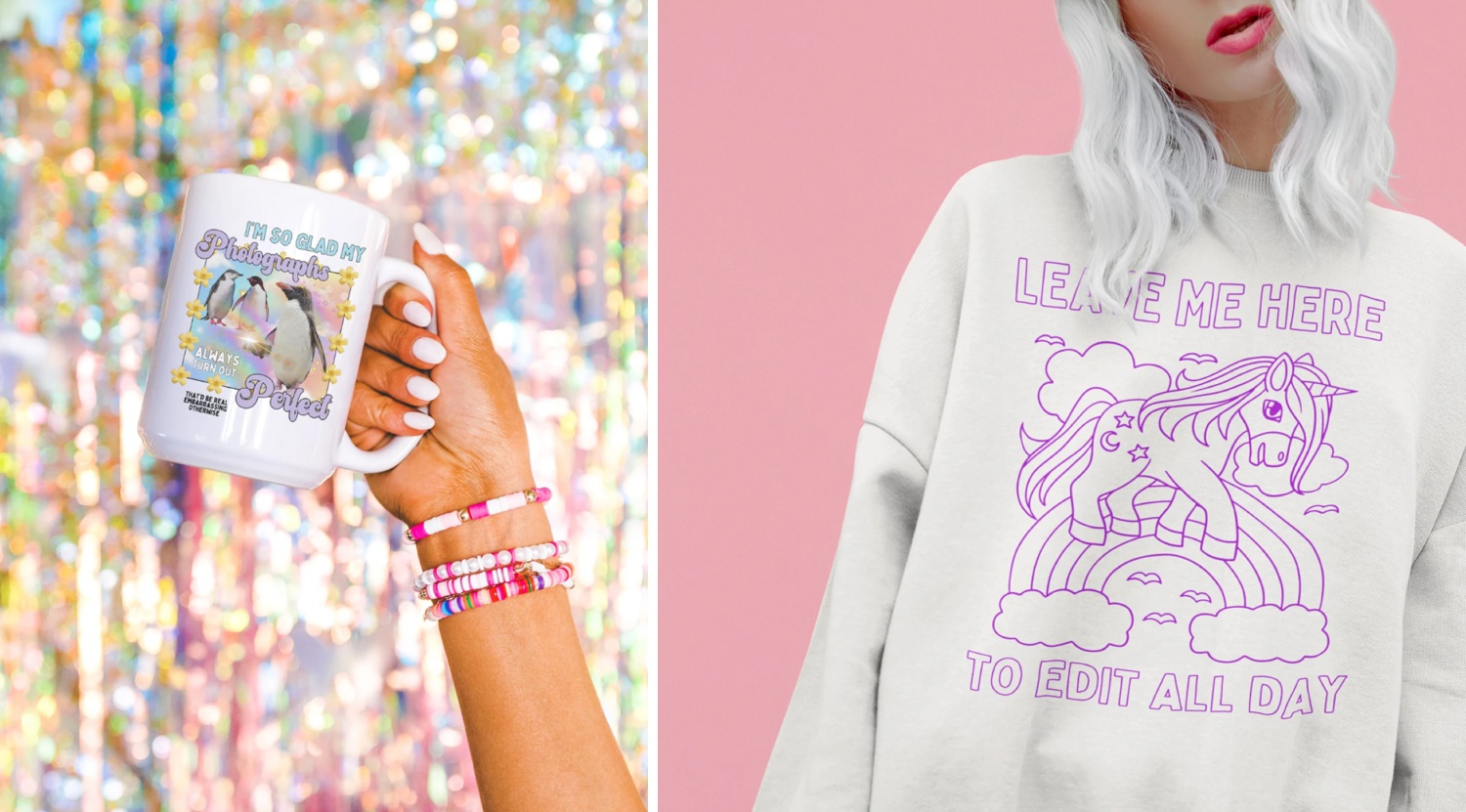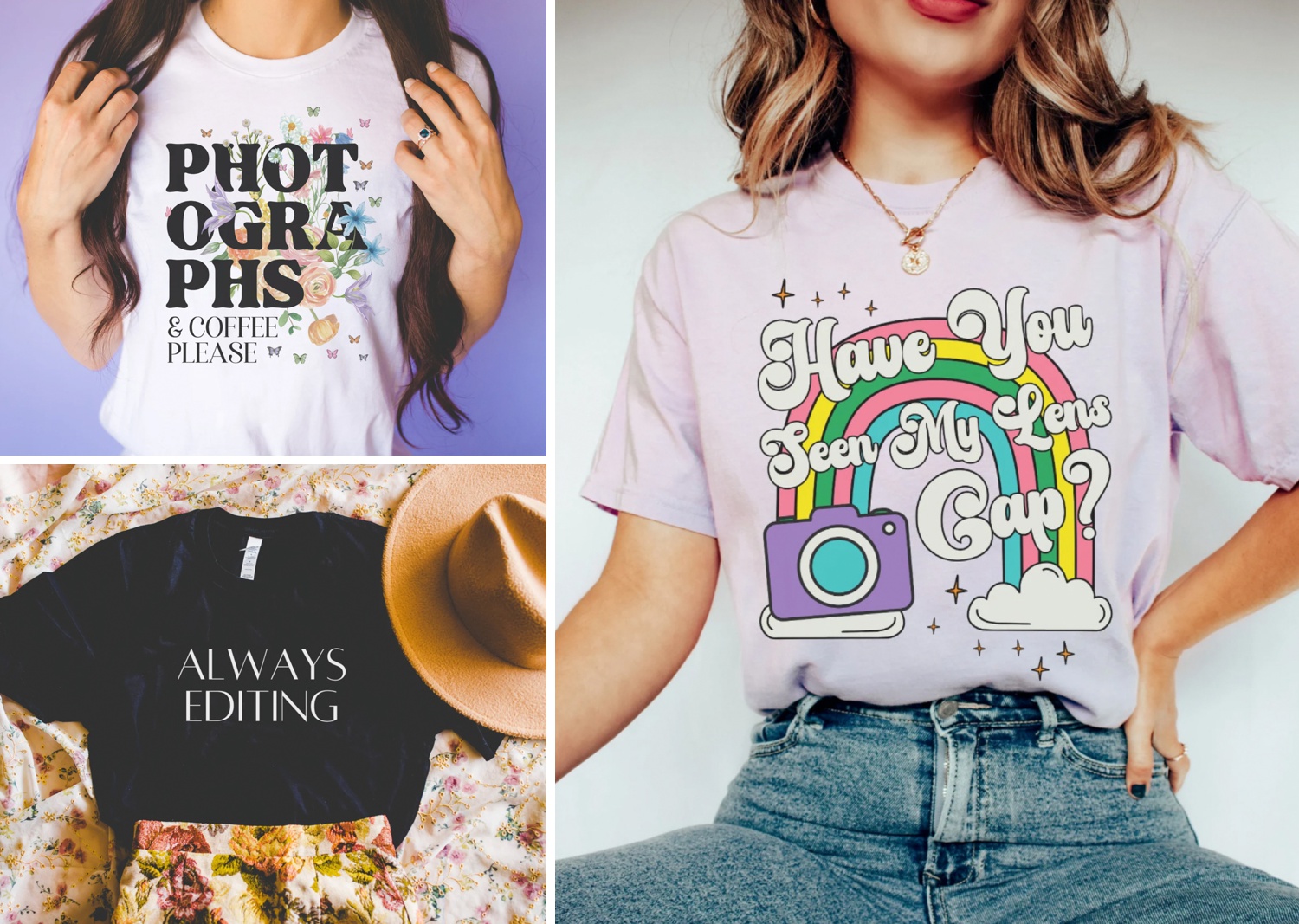 What's Different About Opal and June Photography Gifts?
They are FUN!
Y'know how I always talk about how I want my photographs to feel like the feeling when you open up a box of 120 crayons? Wonderful! For my photographer shirts, I have a completely different goal: I create tee shirts that a photographer mom can wear totally oversized at any portrait session – family, senior, engagement, whatever! – where she's going to get grass stains on her shorts or her leggings and will probably track mud into the house after the shoot if she doesn't take her boots off before walking into the house. Sound like I have experience with this? Hahaha. You know I do!!
The bumper stickers are fun, the coffee mugs are funny, and the shirts are total conversation starters that are able to take some wear + tear during shoots. Some of them are loud, some of them are minimal, and all of them are created to put a huge smile on your face!
More Links to Photographer Gifts for 2023!
Silly Penguin with Camera: 15 Oz Coffee Mug + Pillow // Leave Me Here To Edit All Day: Crewneck Sweatshirt + Tee Shirt + Tote Bag // Photographs & Coffee Please: Bella Canvas 3001 Tee Shirt + Comfort Colors® Tee Shirt, 15 oz Coffee Mug, The Coziest Pillow // Always Editing: Tee Shirt // Have You Seen My Lens Cap?: Tee Shirt + Sweatshirt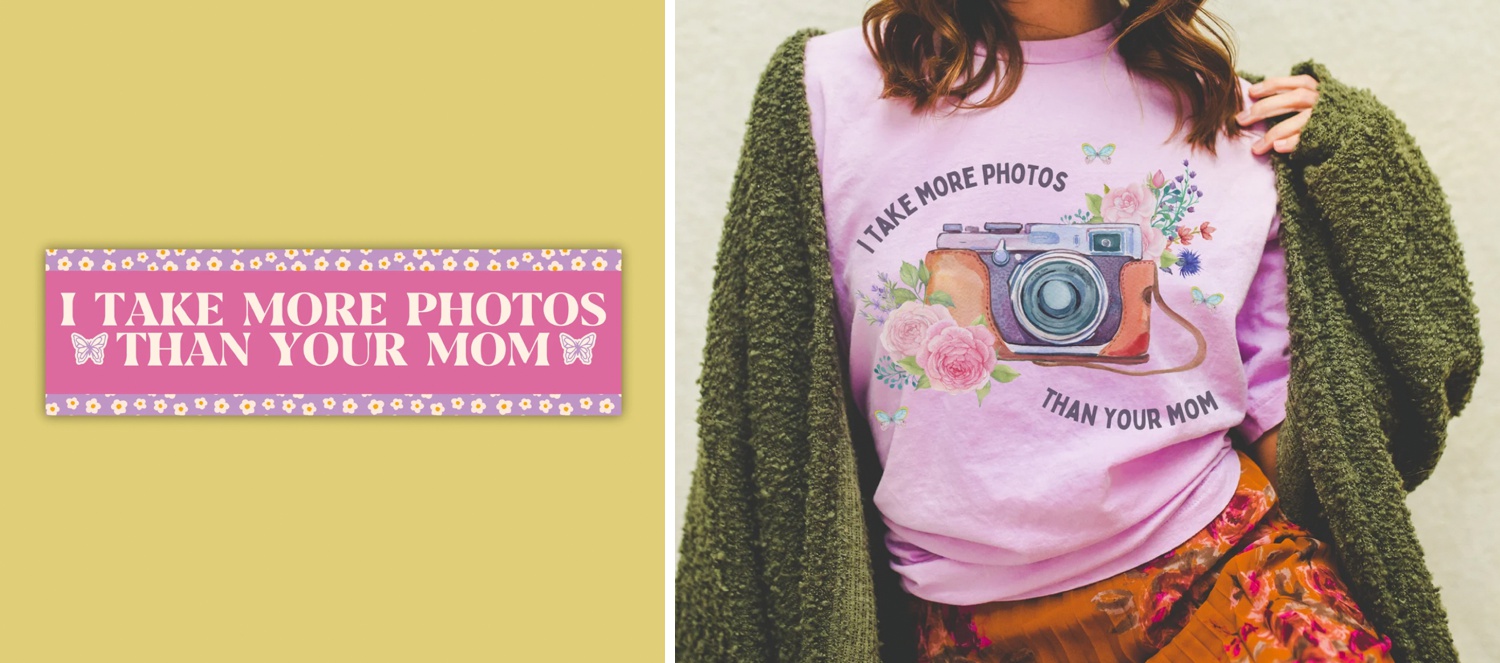 Who Needs A Photographer Gift?
Anyone who loves taking photographs!
No seriously! These cute items are made for photographers of all skill levels and they're great as thank you gifts for your incredible wedding photographer, a birthday gift for your sister who's currently a photography major, or a just-because gift for your friend that needs a little photographer decor for her photography office or photography studio. These items are all meant to be a little cheeky, a little silly, and just so full of fun.
Not Sure If Someone Will Love a Photographer Shirt or Photographer Crewneck?
Totally cool! We have photographer bumper stickers (this one's a fave!), tote bags, and the most over the top mousepads, laptop sleeves, coffee mugs, and pillows. Think of these cute photography gifts as a giggly hug from you to your fave photographer bestie. My Opal and June photography gifts are not meant to be serious – they're meant to be so fun and silly instead! Don't believe me? Check on this "All The Cool Girls Are Wedding Photographers" pillow. Cause your bestie who photographs weddings and edits them in her home office? She needs something cute!
If you have any questions about anything, absolutely let me know! This project has been such a highlight of the year for me and I'm so excited to share more about all the retro aesthetic photographer gifts I have in store for y'all and your photographer friends, too!
Photographer Gift Guide for 2023: More Links!
I Take More Photos Thank Your Mom: Bumper Sticker (My Fave!), Tee Shirt, Sweatshirt // Crying Cause No One Understands How Much I Want to Talk About Photos: Pillow + Sweatshirt // Shoot All Day Edit All Night: Tee Shirt + Journal + Crewneck // The Most Ridiculous Photographer Shirt for Cat Lovers (available as a sweatshirt, pillow, and 15 oz coffee mug, too!)
Have any questions or want to request a new design? You know what to do!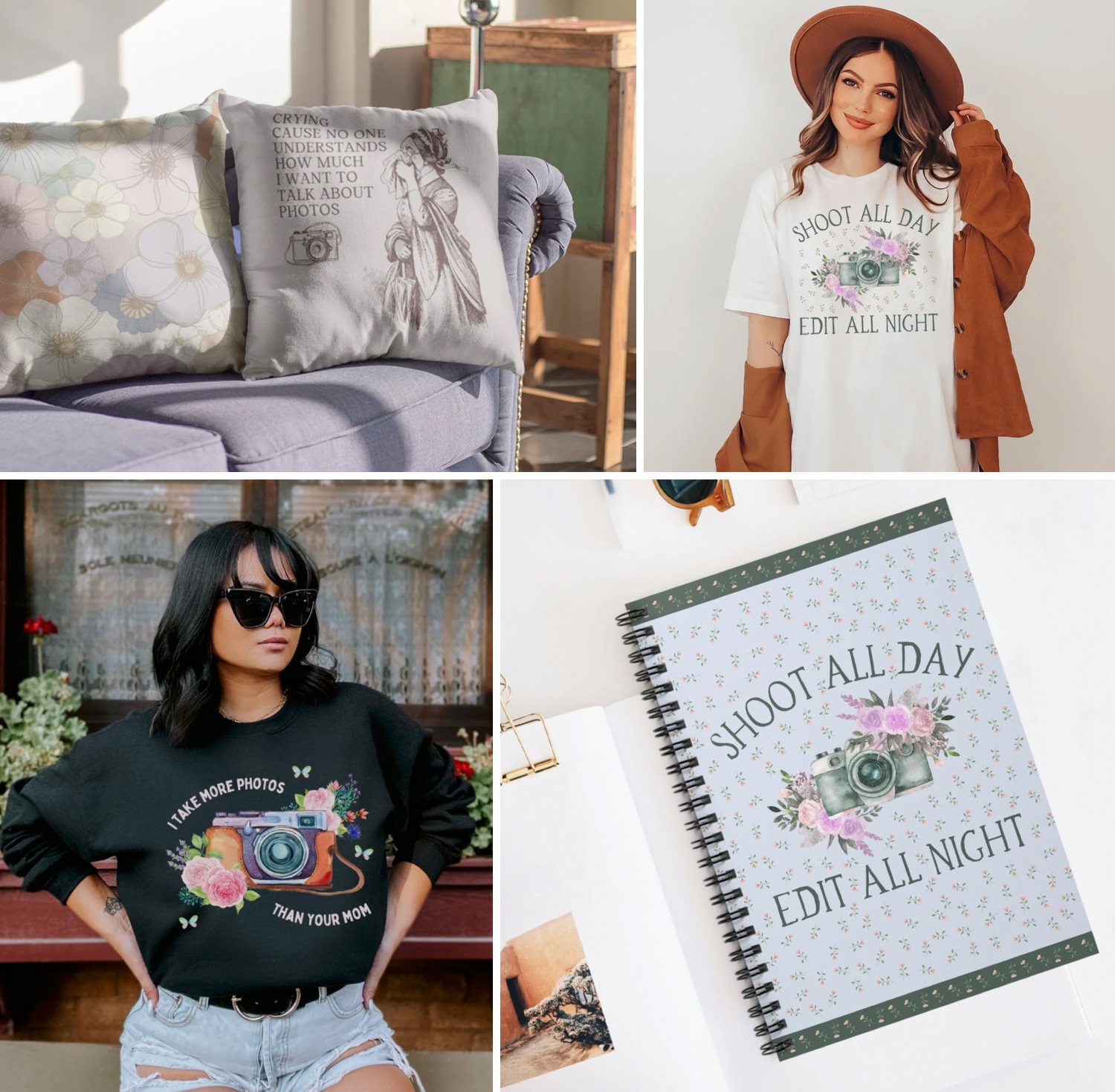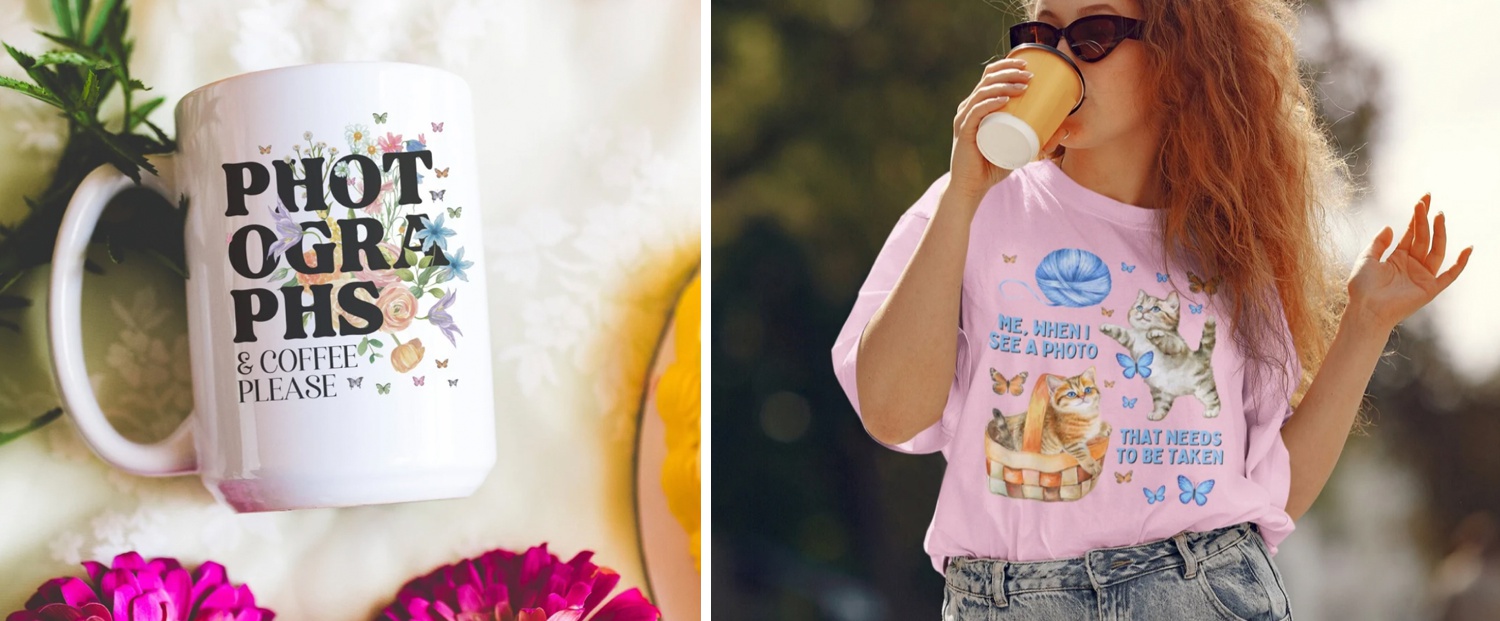 Galleries + Links +  More
Weddings | Engagements | Seniors | Families | Personal | Photographers
Etsy Shops: Tee Shirts + Sweatshirts + Puzzles + Pillows | Mockup Photos
Based in Fayetteville, Arkansas Lissa Chandler is a traveling family and wedding photographer. Lissa is also the owner of Opal and June where she offers unique mockup photographs, bookish + history merch, and the dreamiest photoshoot dress rentals. Additionally, Lissa is the host of the podcast Your Photographer Mom. As a creative photographer in Northwest Arkansas, Lissa doesn't niche down on a genre. She niches on a feeling instead! That feeling? The huge, happy feeling of hope and excitement that you feel as a kid opening up a huge box of 120 crayons. Sound like a feeling you remember? Let's shoot!
Inquire About Your Wedding Date + Book A Session With Lissa Chandler Here