This weekend, Andrew and I wrapped up our 2014 wedding season.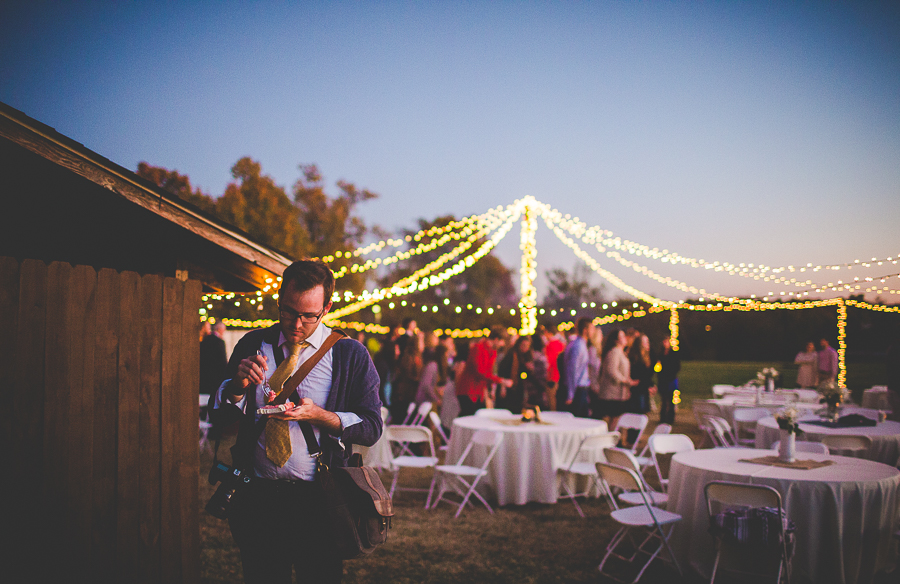 Technically, we still have one wedding of 2014 left but, since our last wedding is the same week of Christmas and six weeks away, I'm calling it: our 2014 wedding season was beyond amazing. It was bustling and busy and full of love and lots of laughter and bursting with great people and, best of all, it was totally and completely unexpected.
Fourteen months ago, I drove myself to Cassie and Tim's wedding in rain so hard I had to pull my mom car (a maroon Honda Pilot that I love whole heartedly, obviously) off to the side of the road while on my way to their venue. Though I'd second shot a few weddings in 2013, Cassie and Tim's wedding was my only wedding that year and, honestly, I expected it to be my last. Before Henry was born, I fell totally in love with wedding photography but, after he was born, I was so in love with being a mom to him and Max that I just couldn't see myself continuing with a career where I'd miss weekends and spend a lot of time in front of the computer.
But! There I found myself! In the middle of Cassie and Tim's wedding reception under string lights and rain with a pack of gear on both of my shoulders, my heart bursting because I knew, deep down, that I was always meant to be a wedding photographer. And when I came home, plugged in my memory cards, and sat down next to Andrew as our kids snoozed in their room? He wasn't surprised in the slightest when I told him I wasn't ready to leave weddings behind and that I was actually ready for the exact opposite. I wanted to be a wedding photographer, I told him – one that photographs weddings weekend after weekend after weekend and photographs engagements like they are going out of style and carries sample albums and ideas to consultations even though meeting new people makes me nervous and I wanted to be the kind of photographer who sits in front of the computer for hours every day just to edit, even though I don't even like computers – and, for the first time, I was really, really ready to go after it – not just take weddings when they came but to actively pursue a career that would last for years. And when I turned to him and said, "And I want you to shoot them with me", Andrew didn't even blink before saying "Alright".
Twenty weddings and countless late night brainstorming sessions later, I could not love him more for that moment – the moment where he said "Alright" like it was no big deal and then not complaining once when I chided his photographs or bossed him around about where he needed to be during a wedding ceremony or told him his ISO was too high or too low or that I needed him to learn flash in a weekend before a super dark reception. I mean, the man stops by my favorite ice cream shop after every single wedding we shoot, even if I've just ate a piece of wedding cake. He is the most amazing person ever (did I mention he also works in the University's HR Department and is finishing his Master's Degree and puts the boys to bed every night?) and, even though I don't talk about him a lot on this blog, I love that he is there with me through every part of my business – that he helps me figure things out and shoots every wedding with me as my second shooter and that he doesn't even bat an eye when I say I want to do something crazy and I just love that about him and, because he is the greatest, I couldn't help but share a little extra about him today because, really, there's no way I could do this job without him.
———-
Weddings | Engagements | Seniors | Families | Personal
Like LCP on Facebook | Lissa Chandler Photography on Google Plus
* Lissa Chandler is a creative portrait and wedding photographer in Northwest Arkansas who specializes in senior portrait and wedding photography. Lissa is known for creative, personality-driven, and fun senior portrait photography in Northwest Arkansas and currently lives in Fayetteville with her family: a husband who has finally decided not to participate in No Shave November, a four year old who is currently guarding a fort he made in the hallway, and a one year old down for an afternoon snooze. Lissa is currently booking 2015 Seniors, 2015 weddings in Fayetteville, Bentonville, Siloam Springs, Rogers, Springdale, and all of NWA. She is available for wedding work nationwide. *