Hooray, hooray! Last week, this styled aquarium shoot was featured on Utah Bride & Groom!
And today? I'm so excited to share more of the photographs! Those blues! Those purples! That turtle!! That LIGHT and the way it shimmers + moves! I'm obsessed and in love. I've wanted to shoot a session (or wedding!) in an aquarium from the time we took Max and Henry to the New Orleans Aquarium with my camera in tow and took a million photos. Living in an aquarium-less state, though, I settled for the next best thing: An aquarium styled shoot! As a light loving photographer, I couldn't ask for anything better – or more unique!
Like, if I told you that shooting in an aquarium was the top of my photography bucket list, I wouldn't be lying.
And in the fall of 2020? I got to live my aquarium dreams at the Loveland Aquarium.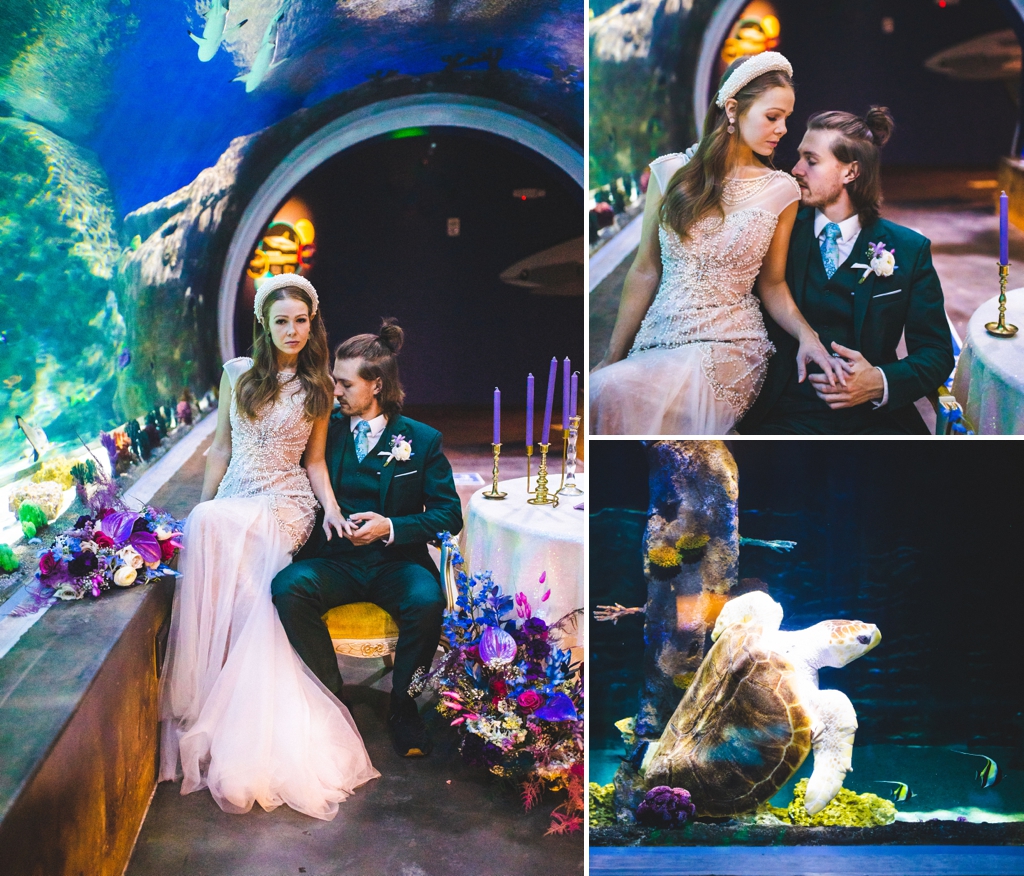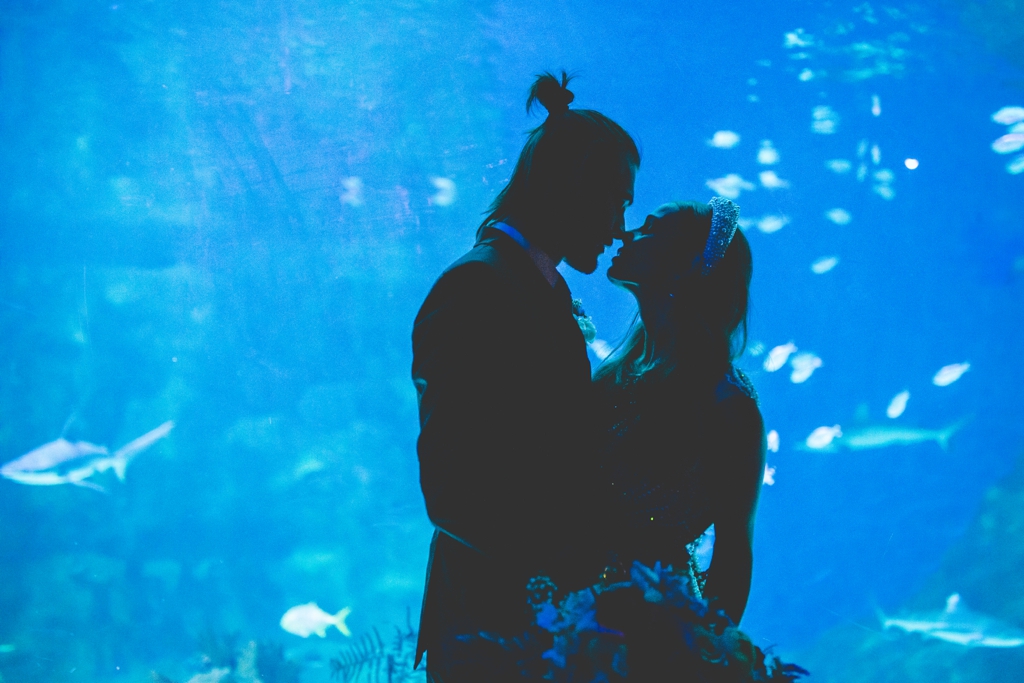 For this shoot, I wanted to go really freaking extra but also really simple and sweet.
The gown was an easy pick! At first I planned to go simple but when I saw this pearl covered beauty hanging in my Opal and June closet, I had to grab her. After that, I added a super rad pearl headpiece and then focused on color: purple, blue, green, and pink specifically. The purple candlesticks, the huge blue ring, even the purple vase that I found  at a local flea market – I added all these colors to pull in the colors I knew we'd find behind the aquarium glass. Putting this editorial together was so fun and so creatively fulfilling, too!
On top of that? The staff at Loveland was AMAZING – we shot this aquarium styled shoot after closing time! – and I just loved creating such a fun editorial. With small weddings on the rise, unique wedding venues are a must and I loved shooting in such a magical place! Loveland, y'all rock! Want to know who else rocks? All these amazing Salt Lake vendors! Couldn't have pulled this off without them!
Venue: Loveland Living Planet Aquarium // Flowers: Sticks + Stems // Cake: Something Frosted Salt Lake City // Hair and Makeup: Jordan Ciel // Models: Jordan + Hayden // Dress + Suit: Hadley + Forrest from Opal and June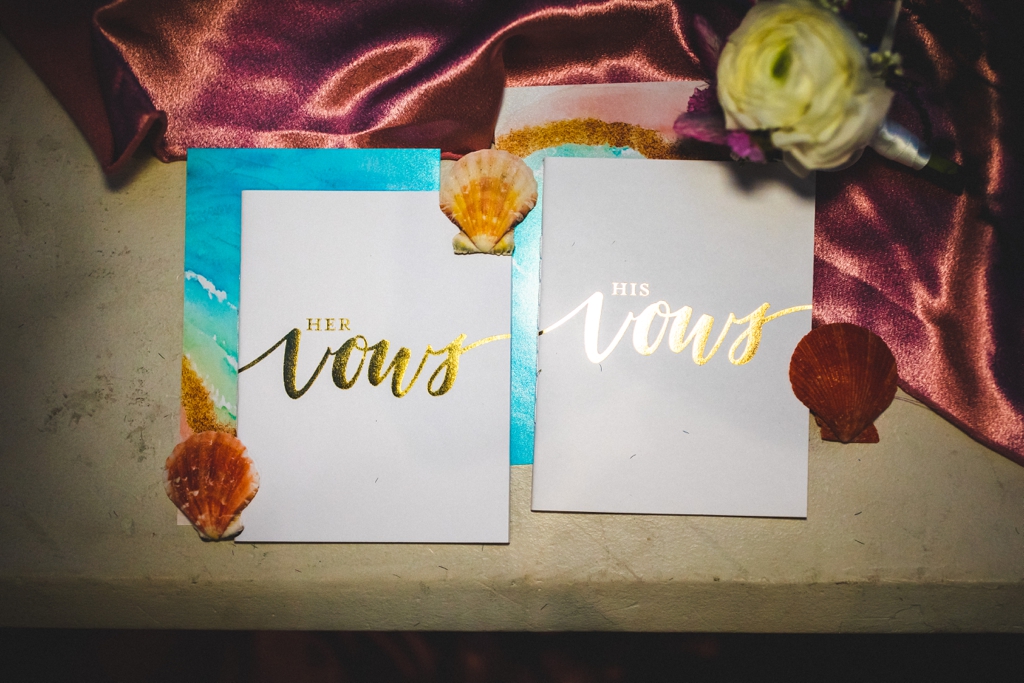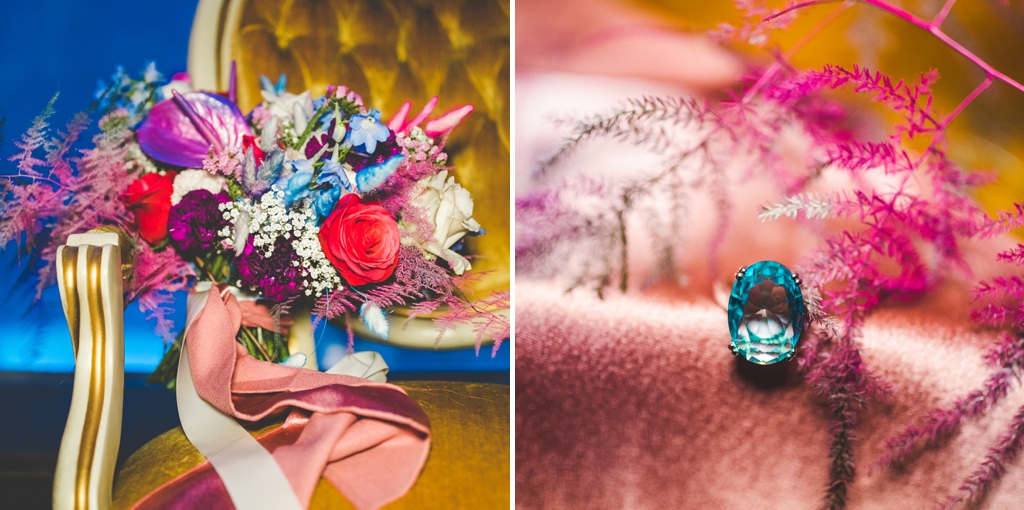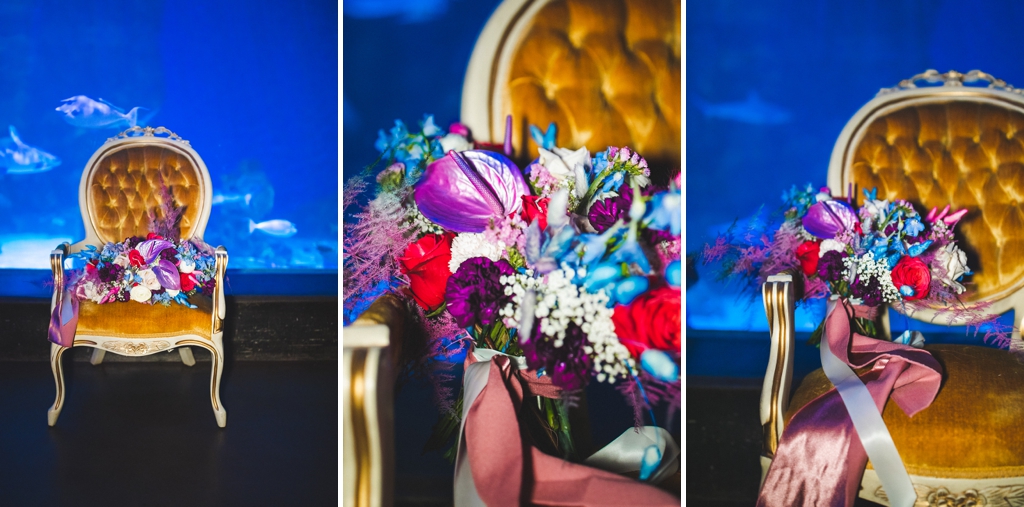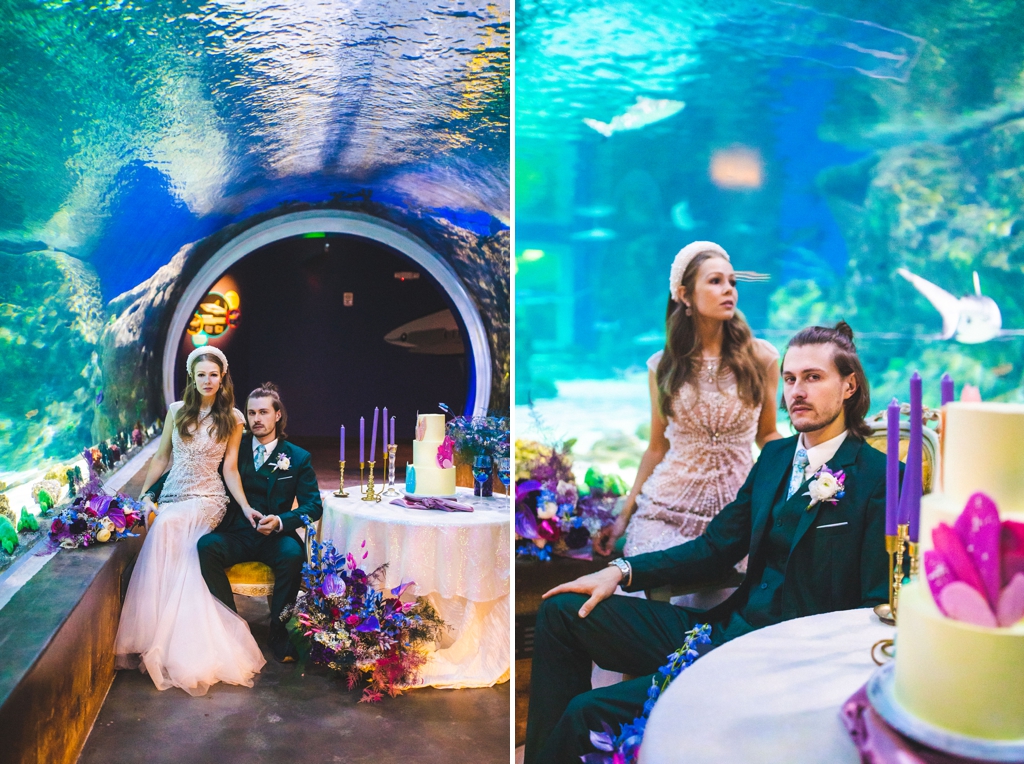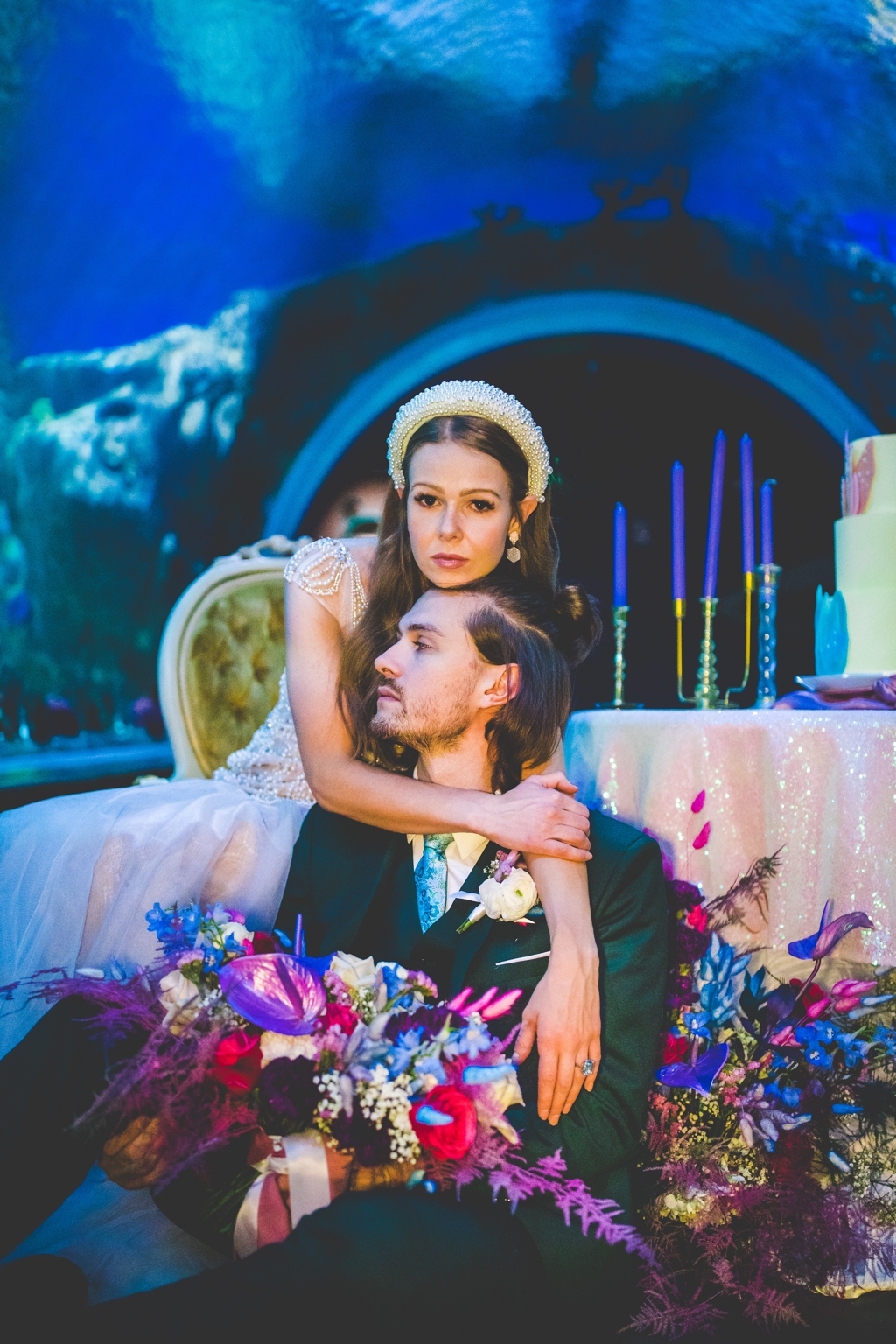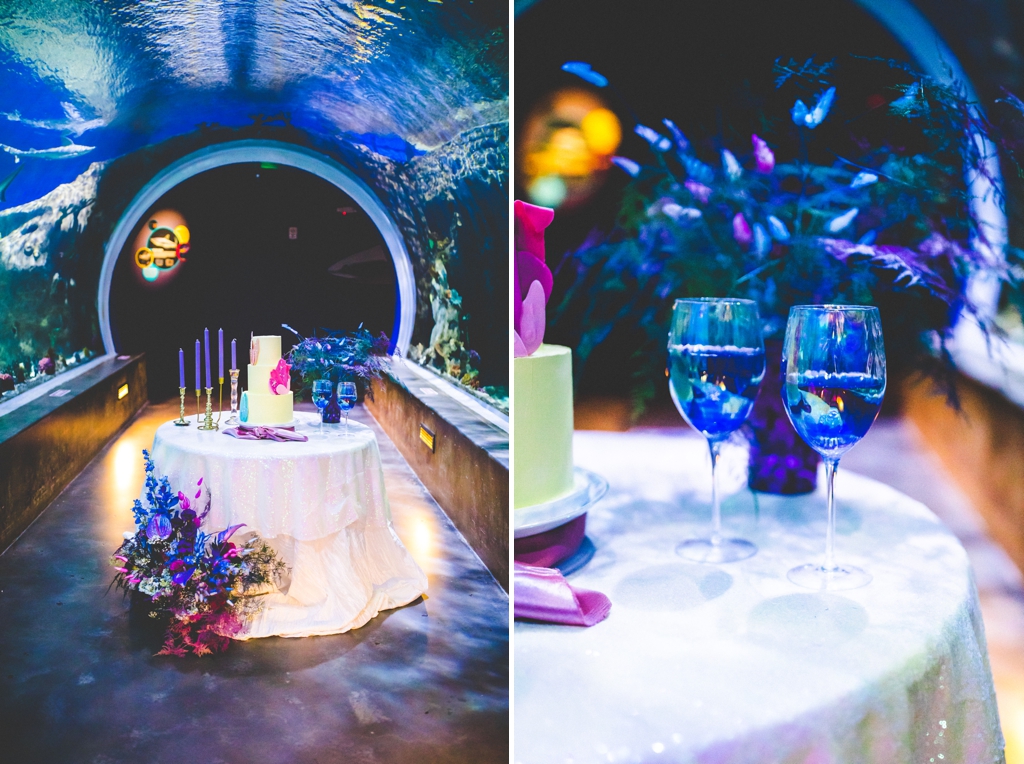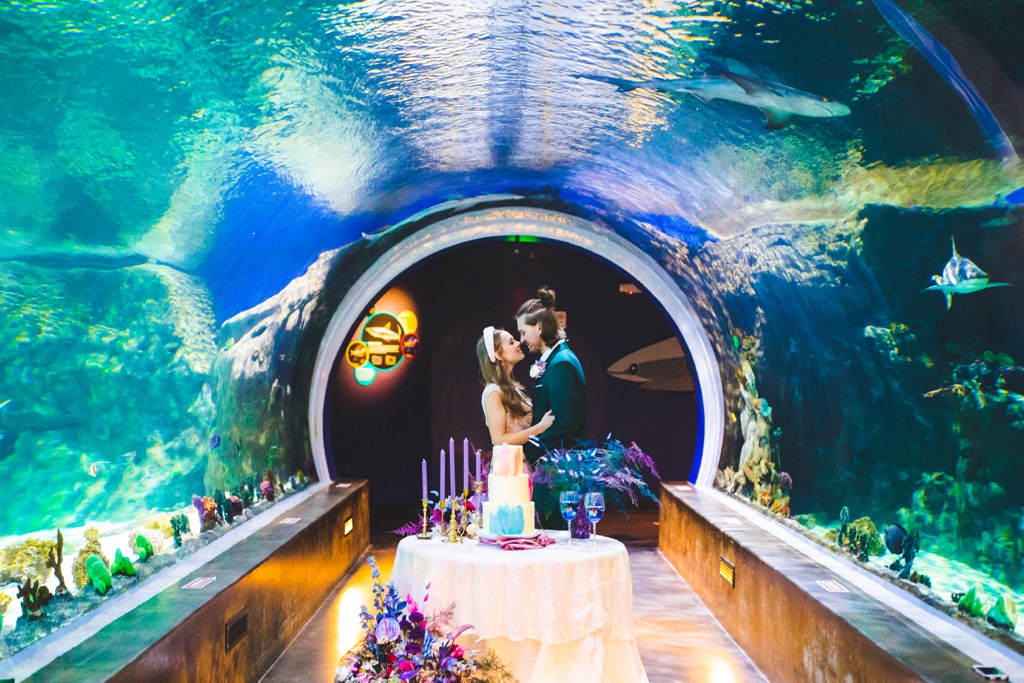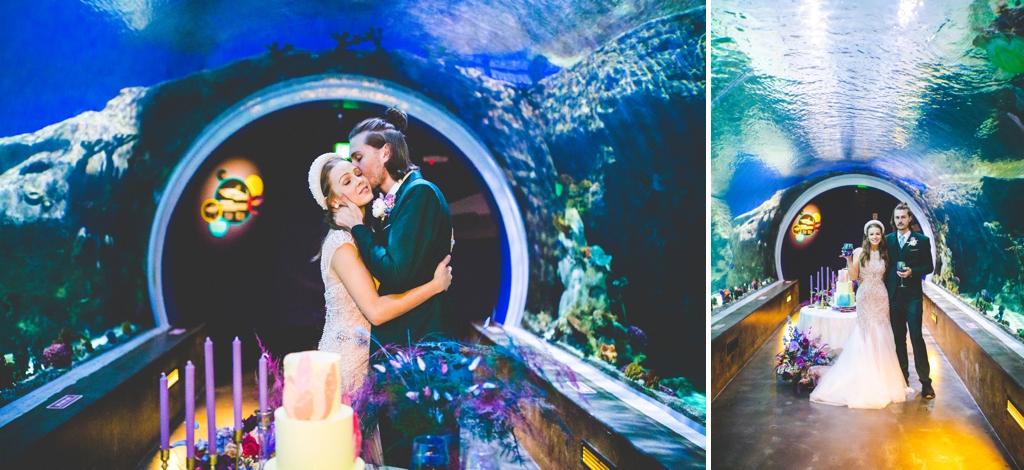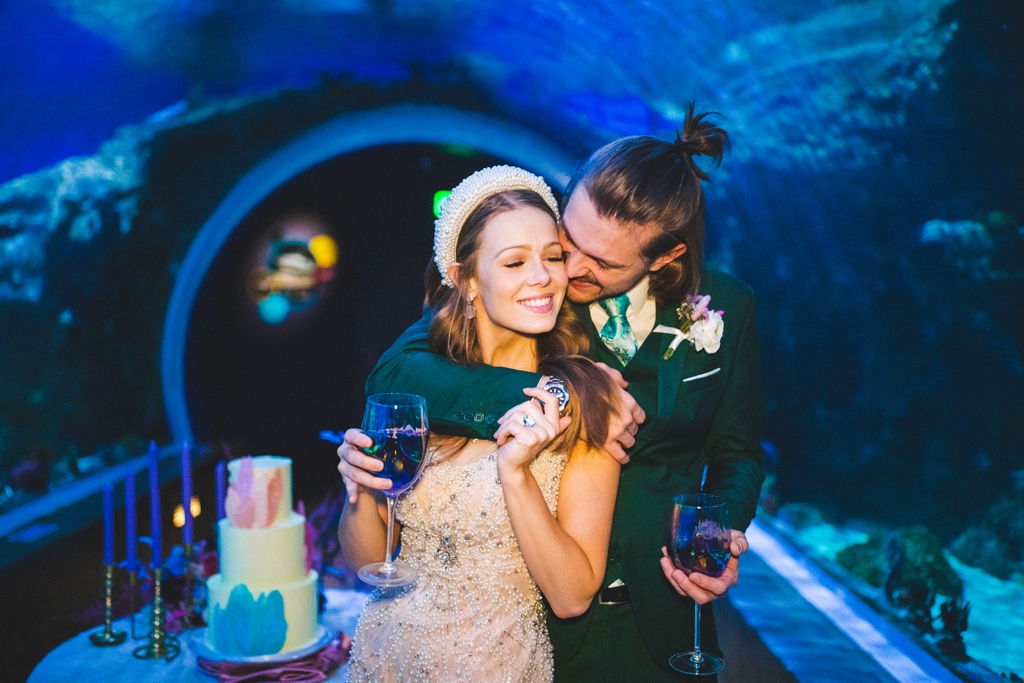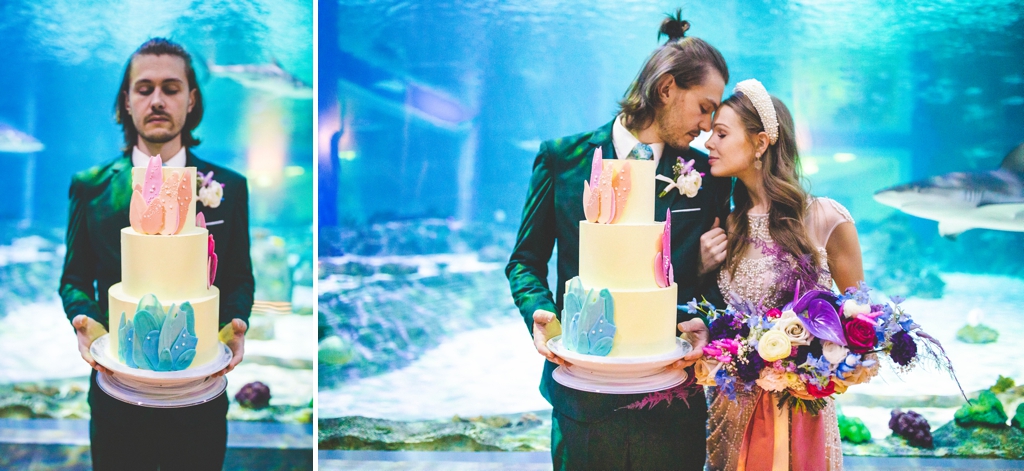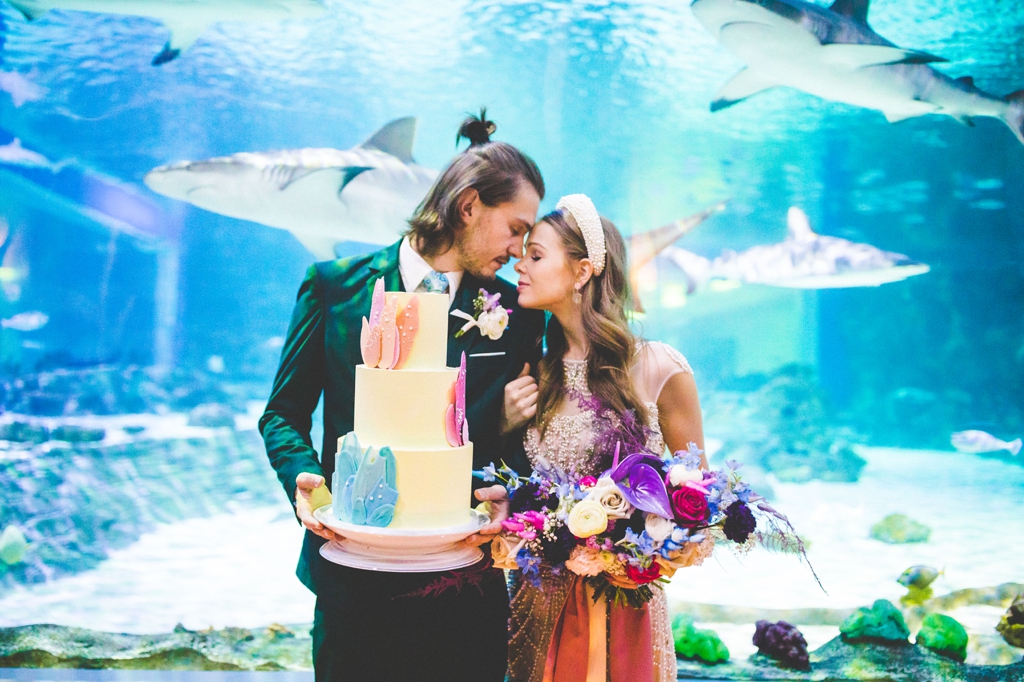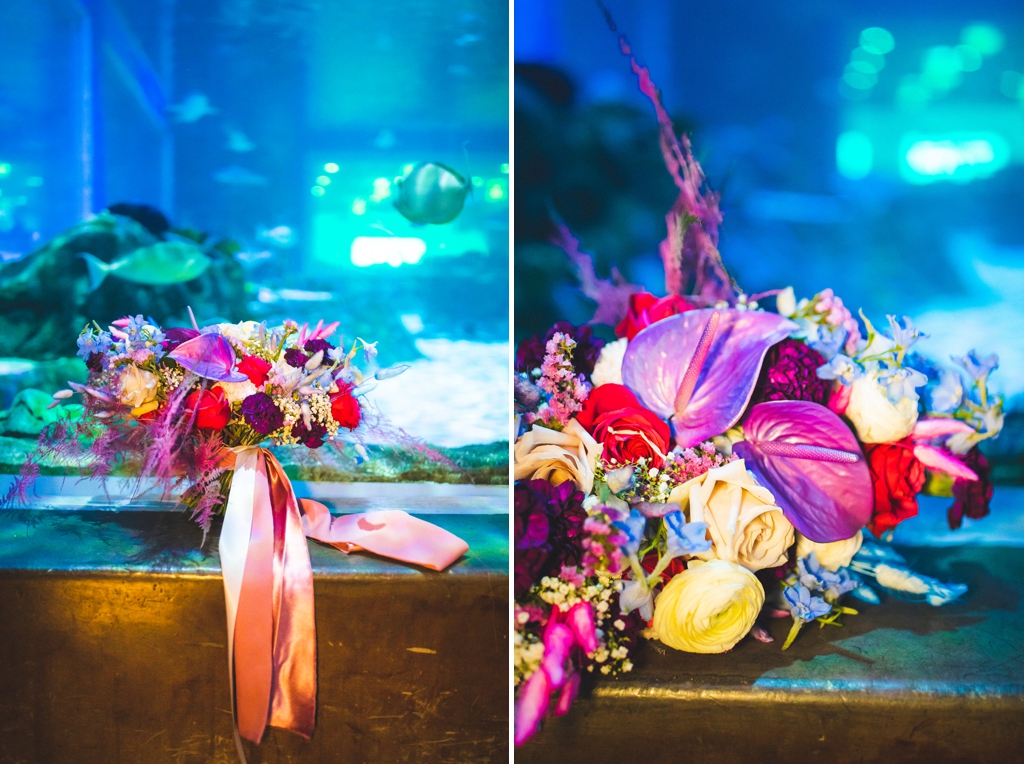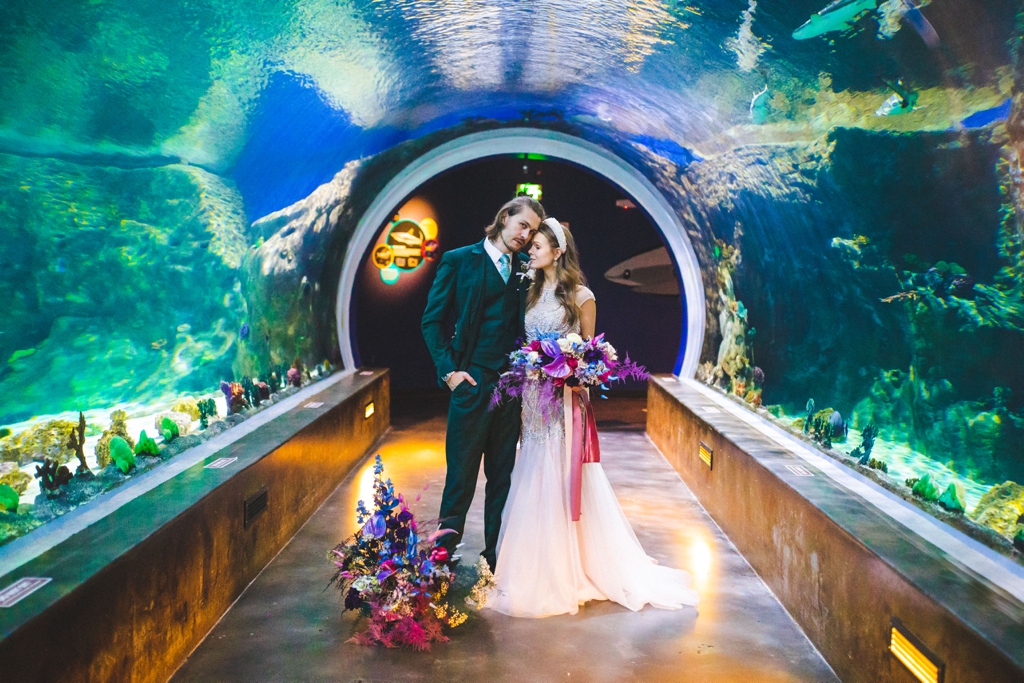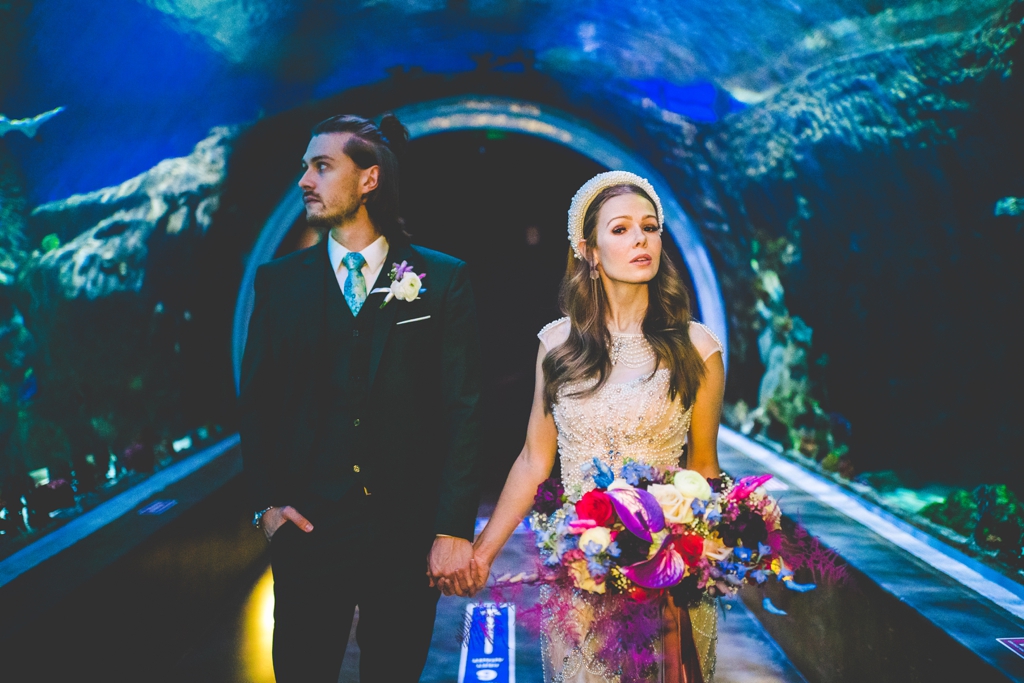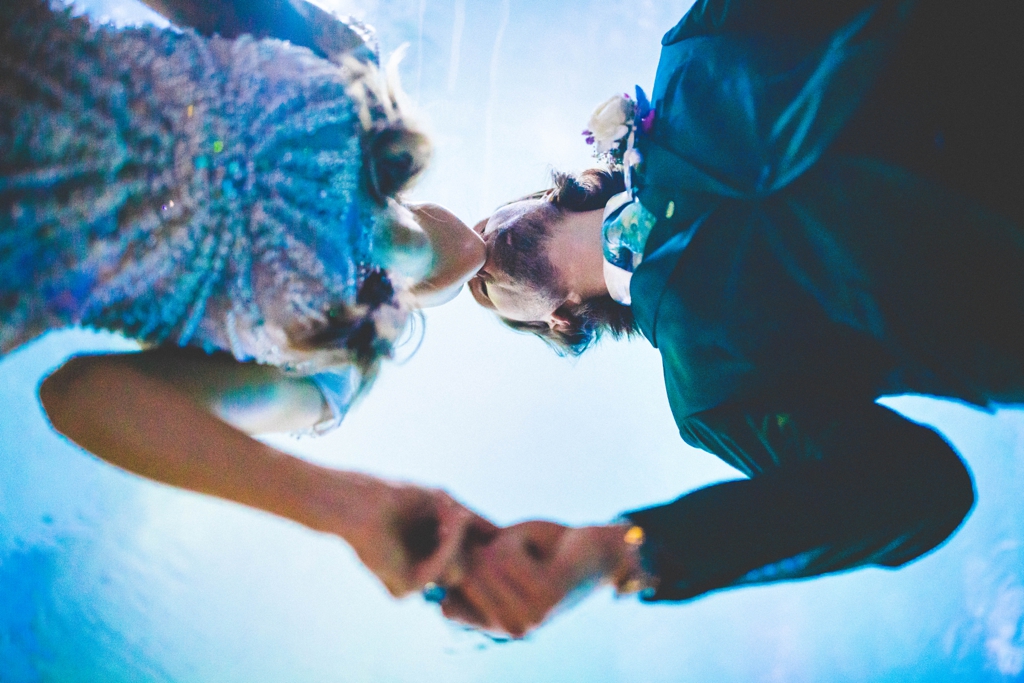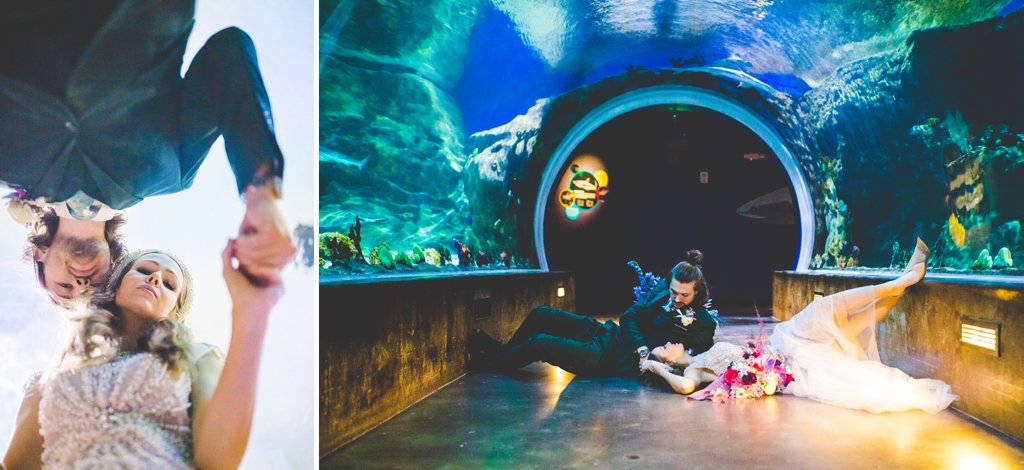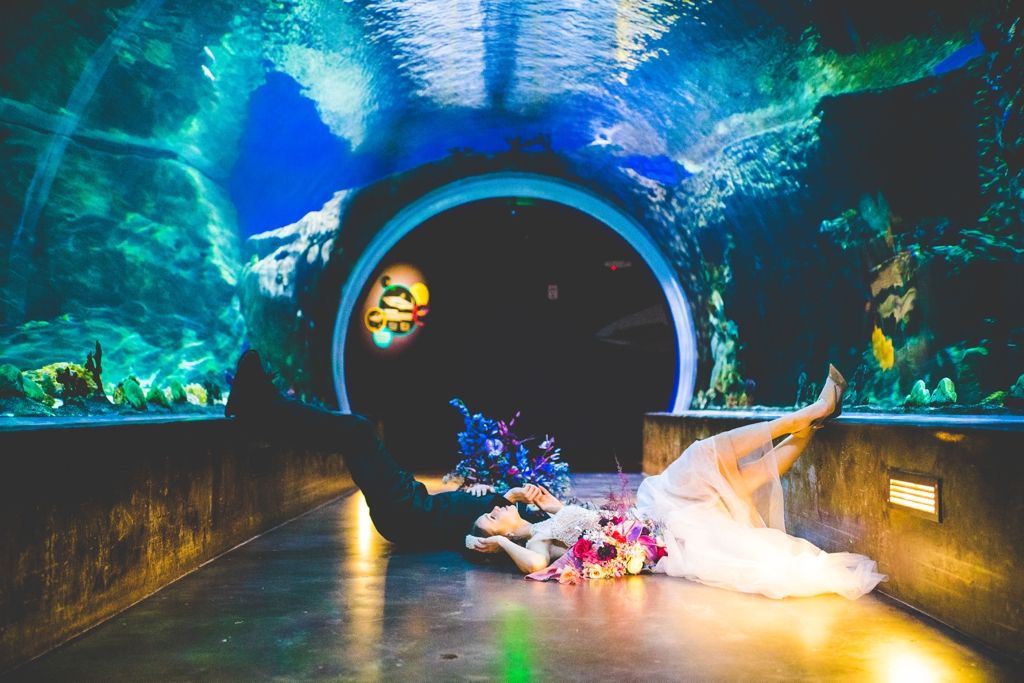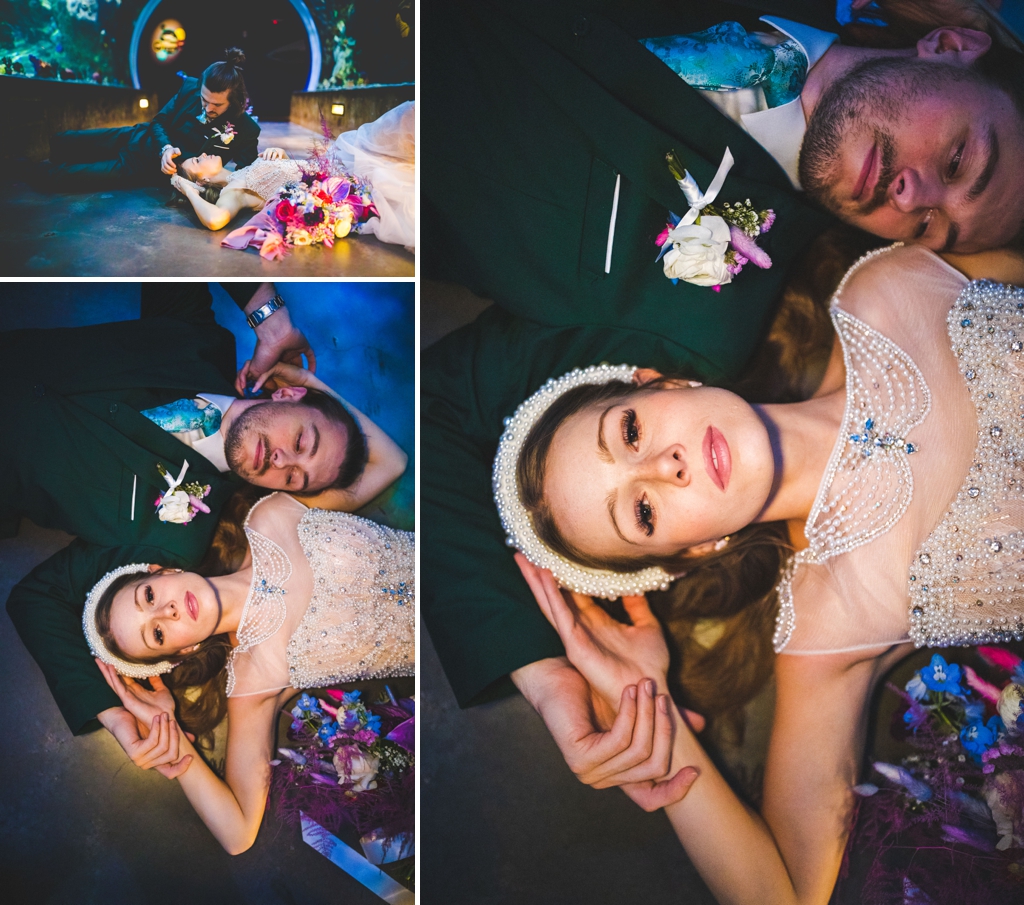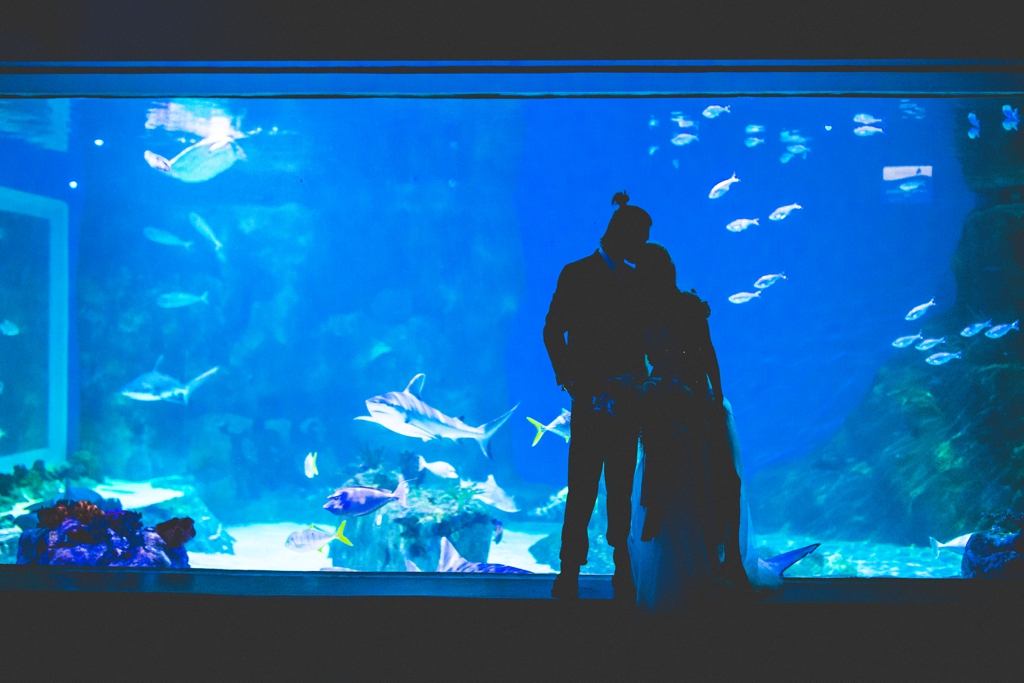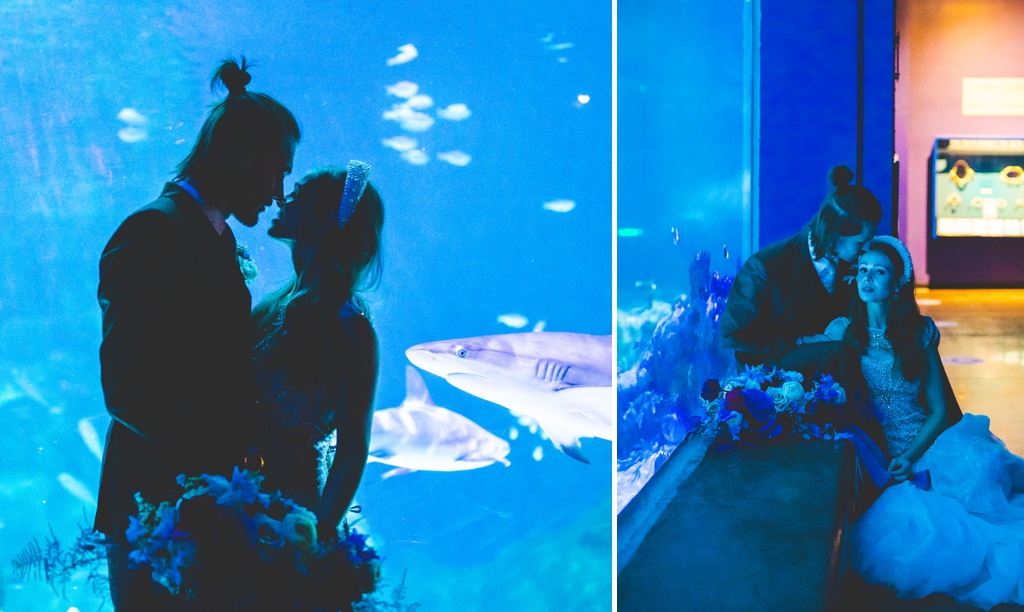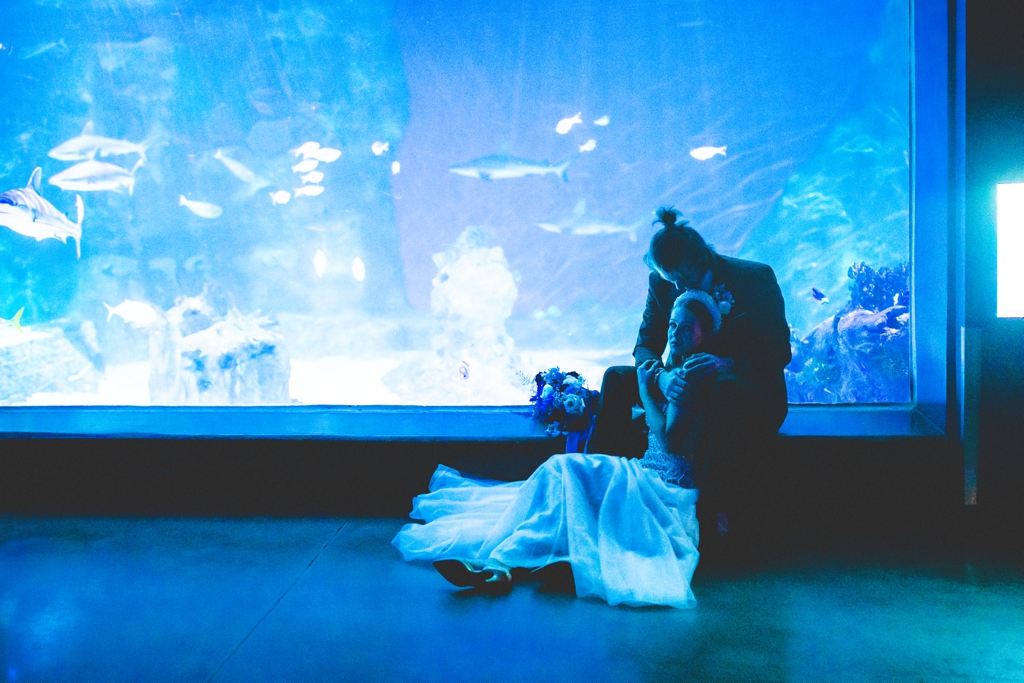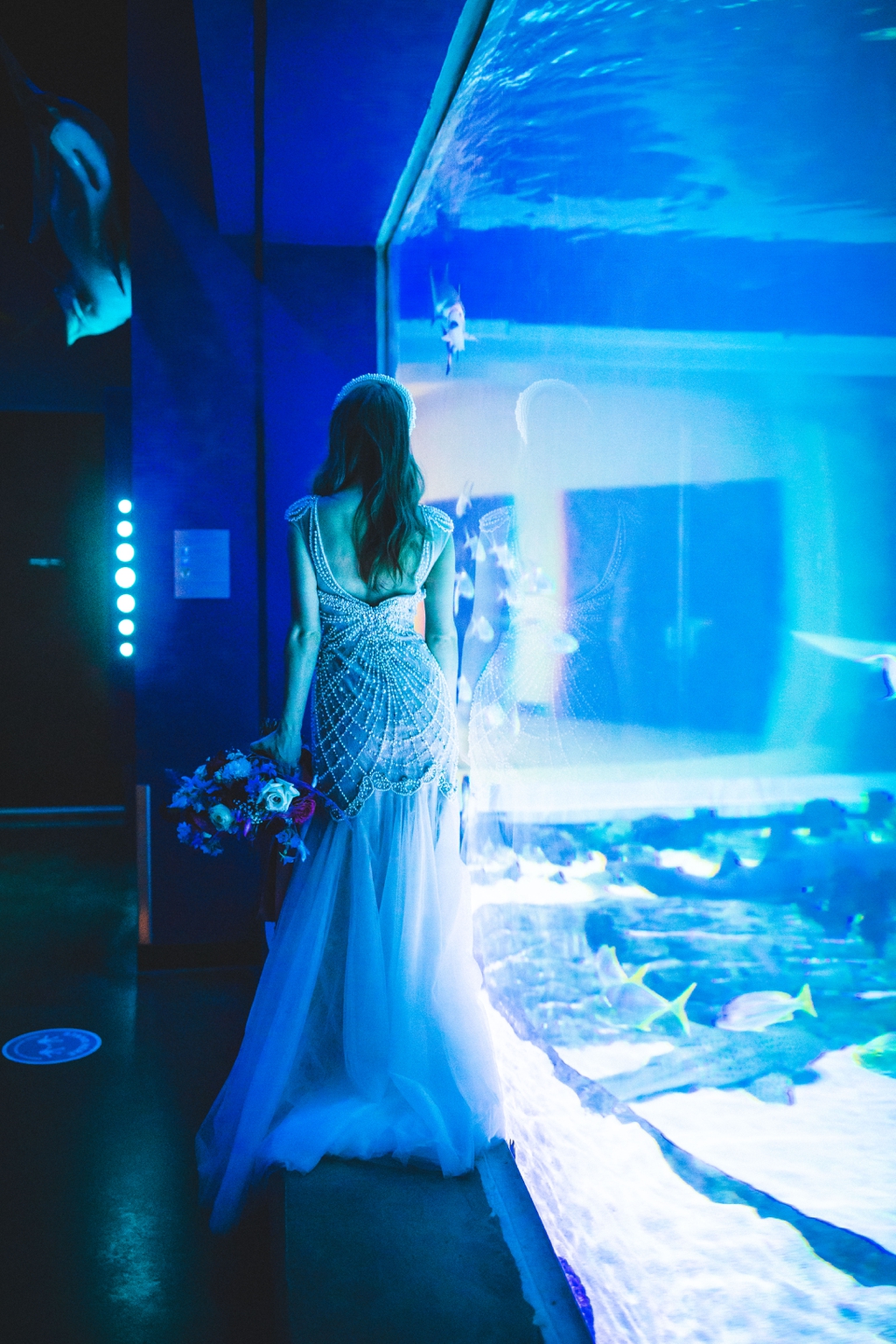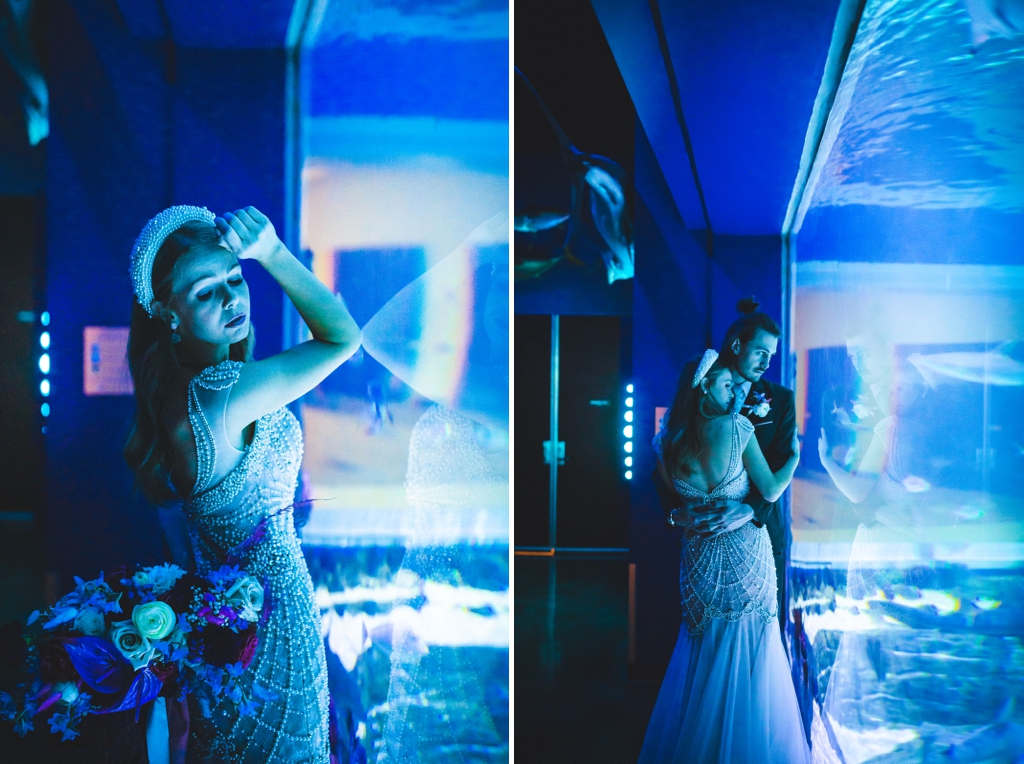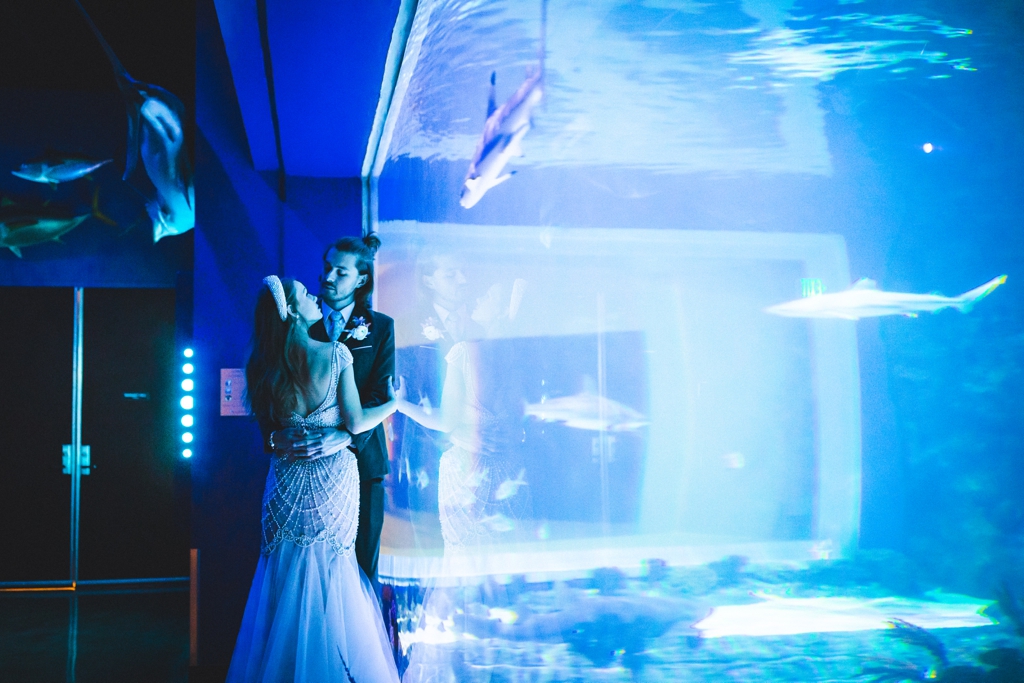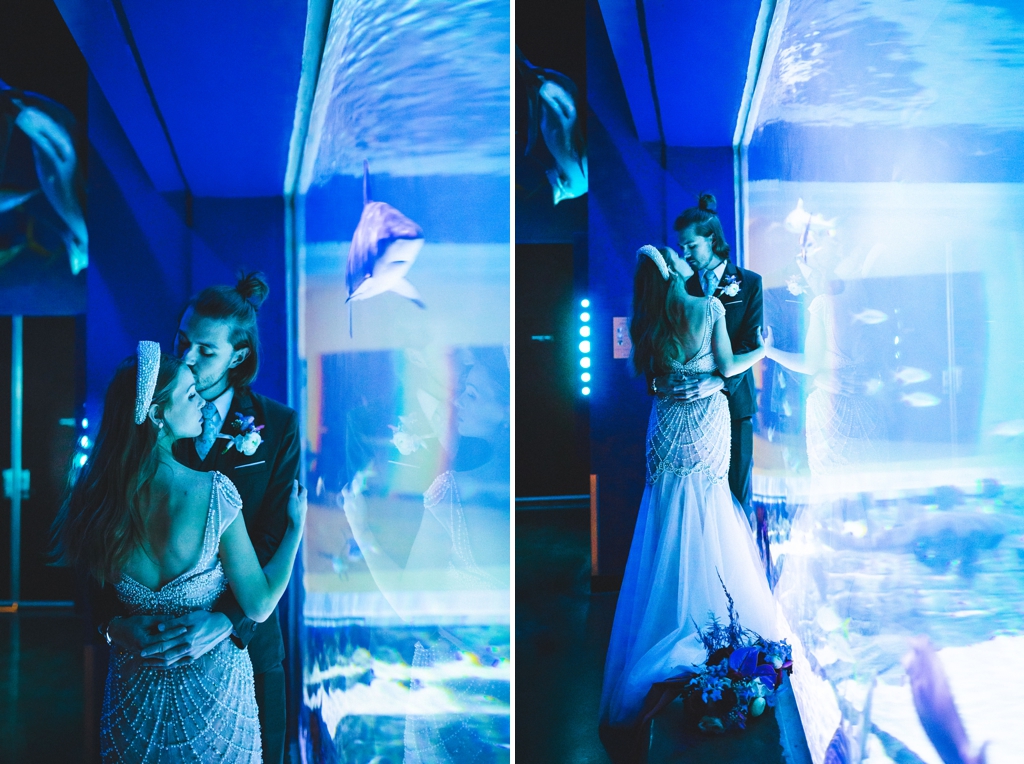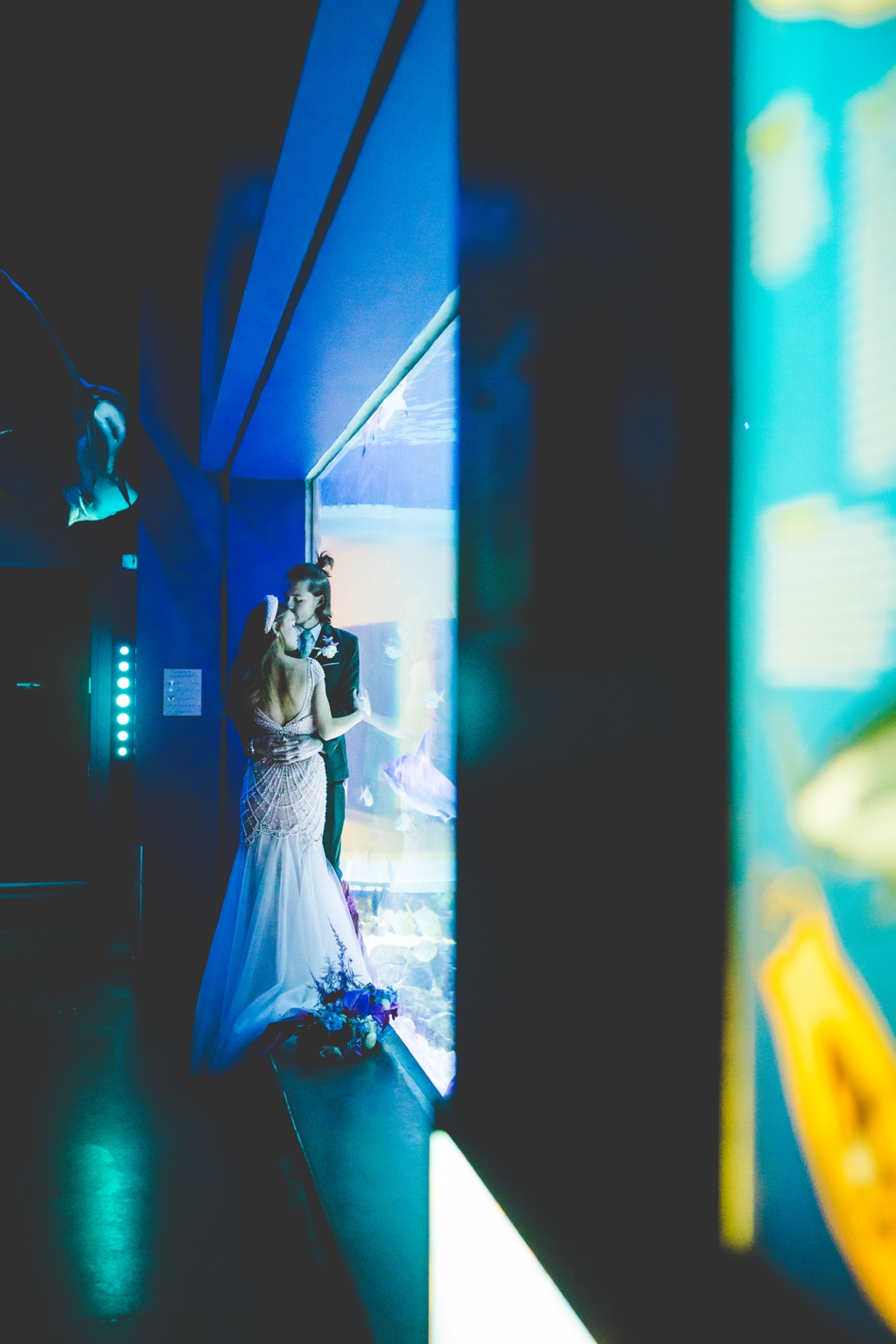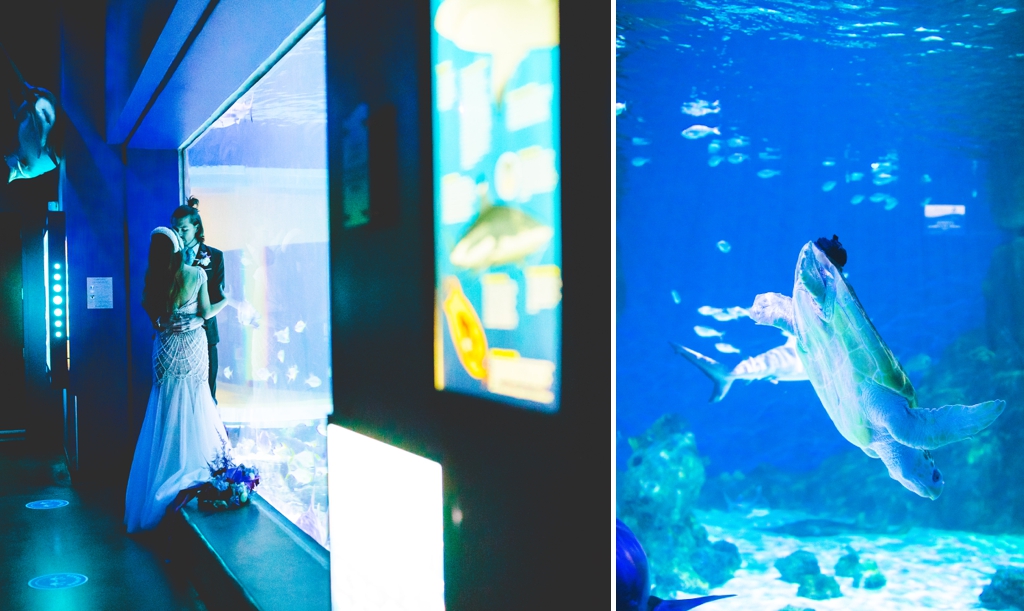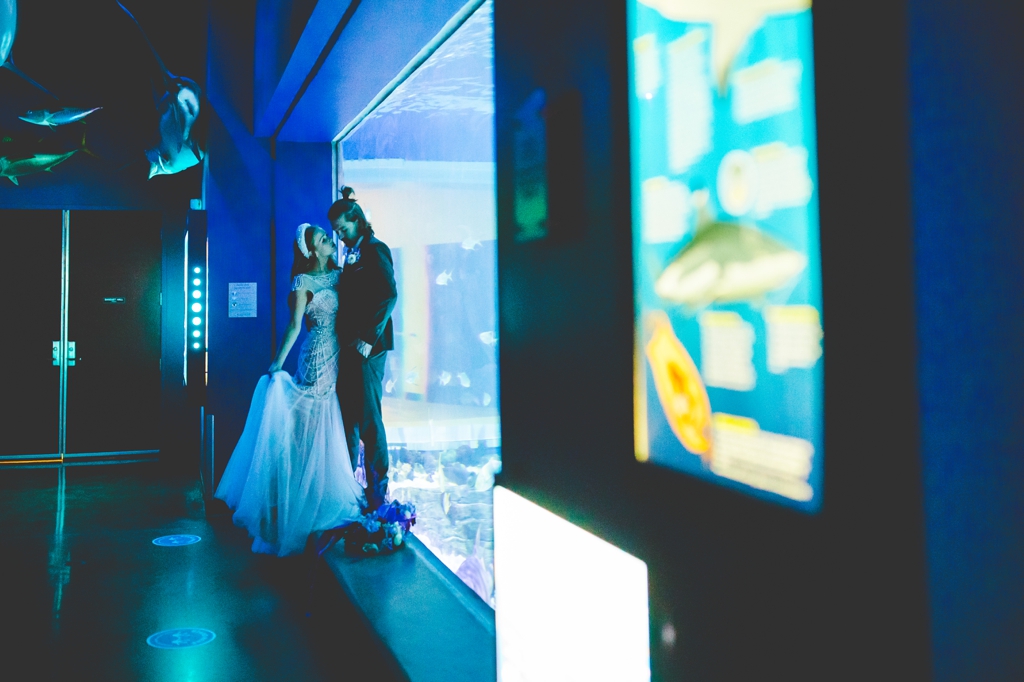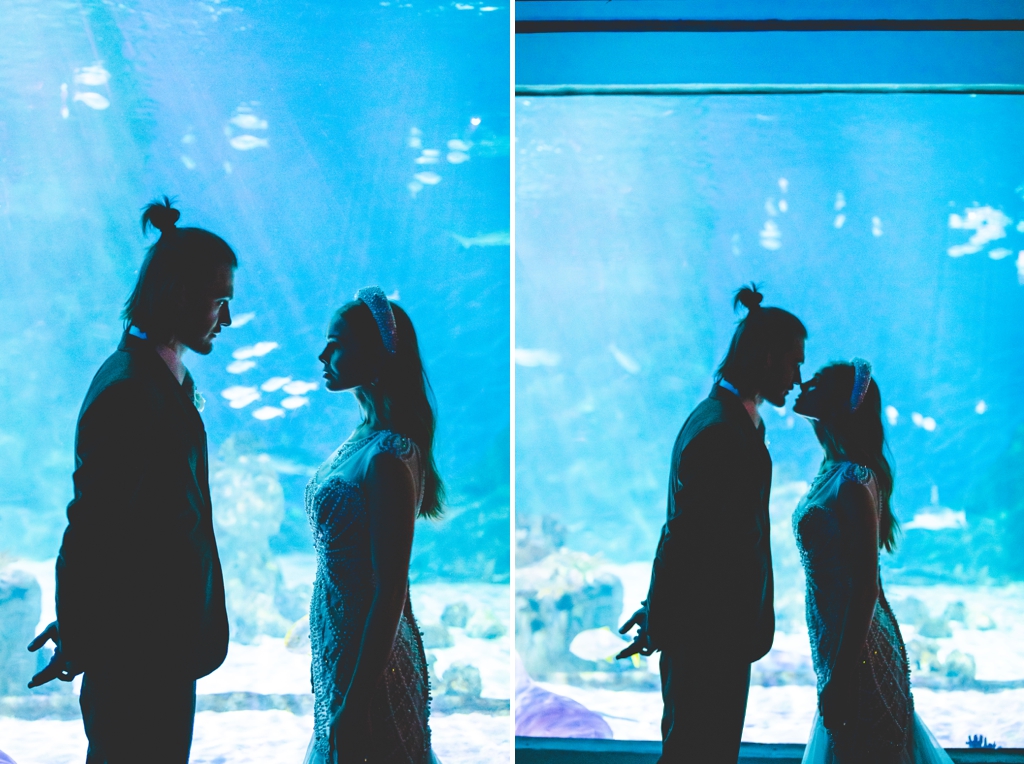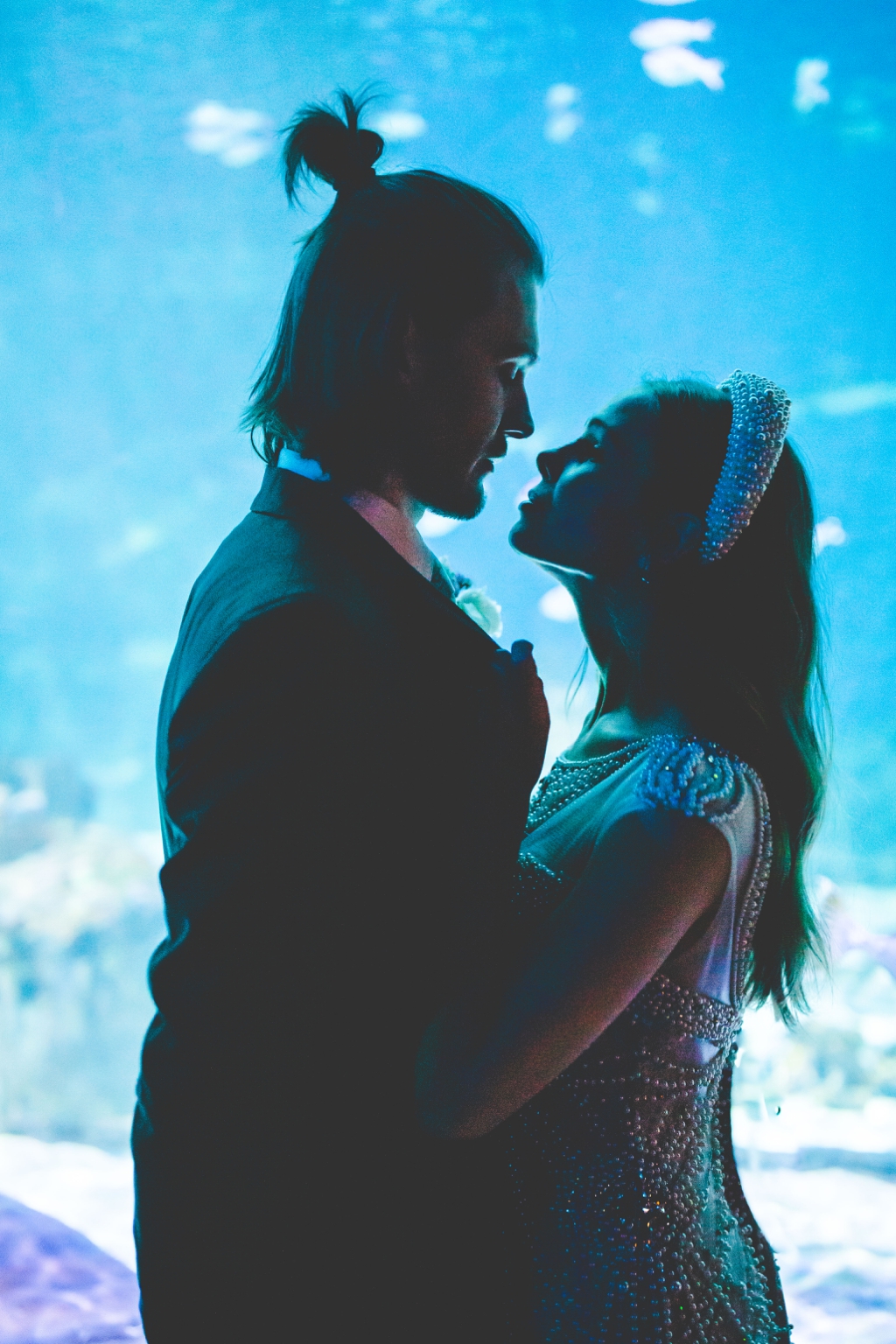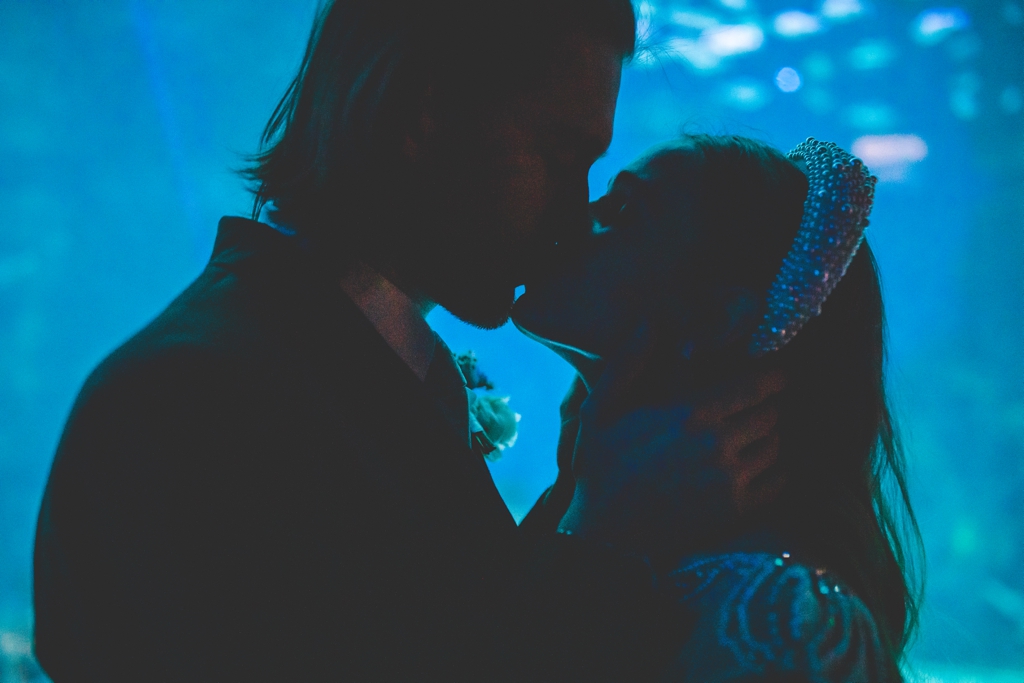 Okay, okay, okay. I could stop my blog post right now.
But! I've got more to share! For our last set of photographs at the aquarium, we shot in a pitch black (blue?) hallway and it was awesome. I achieved this by using a super cheap video light from Amazon and I just love the way these photos tie together the blue tones from the big tank display and the shark tunnel together. So glad Jordan and Hayden were down for these final photos! I adore them!
Getting married at an aquarium? Any aquarium? Call me, boo! I'd love to photograph you!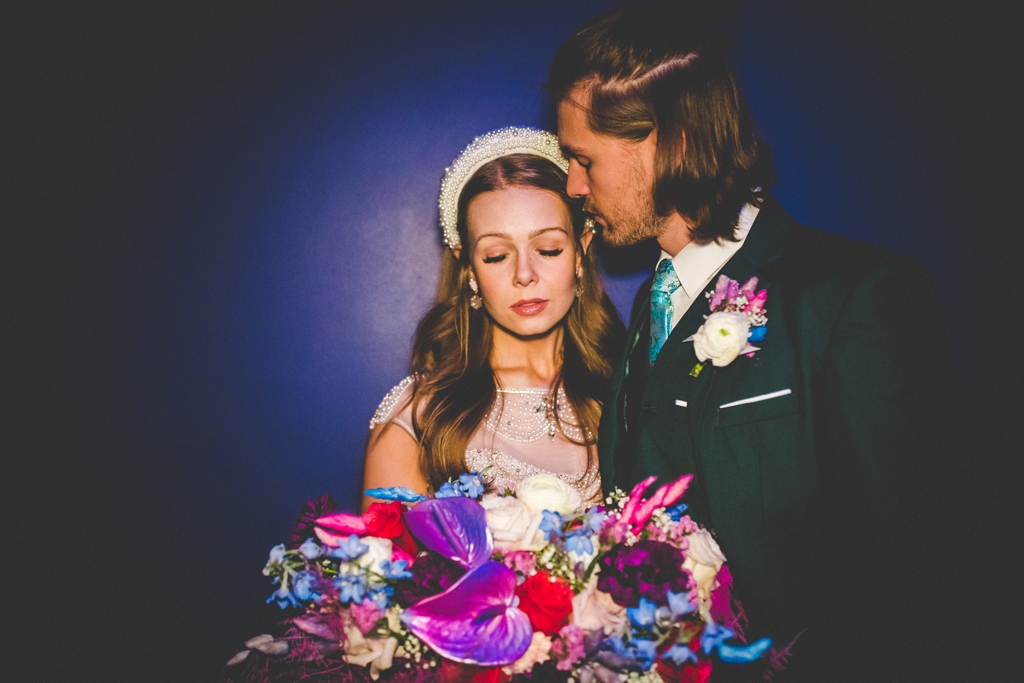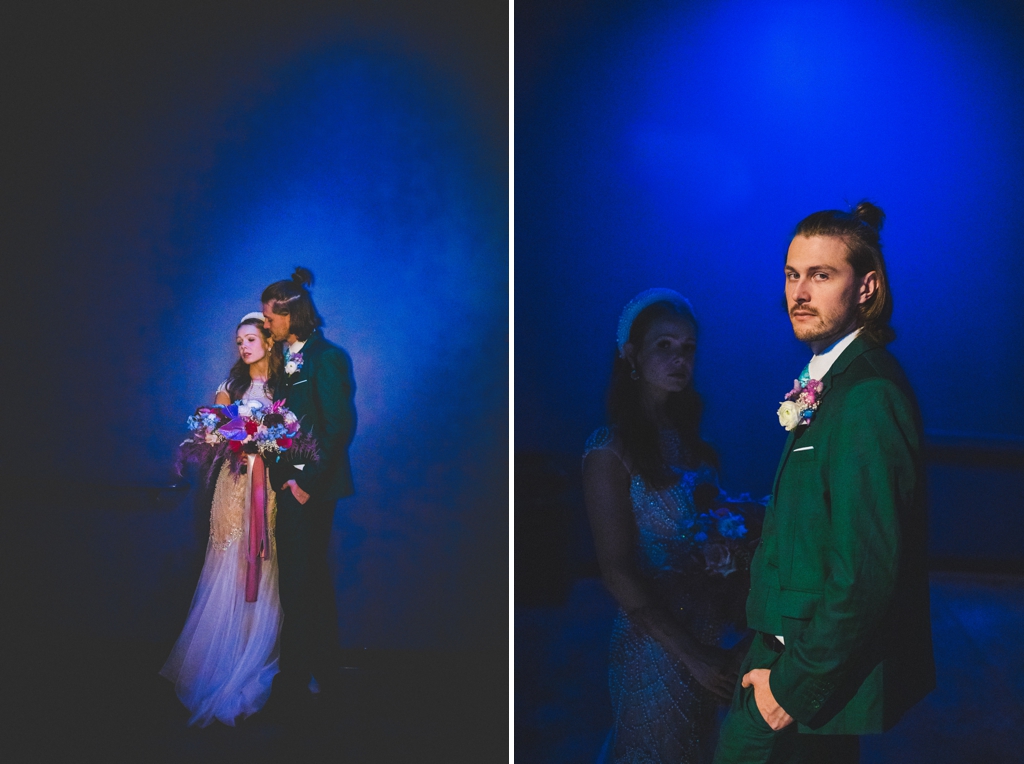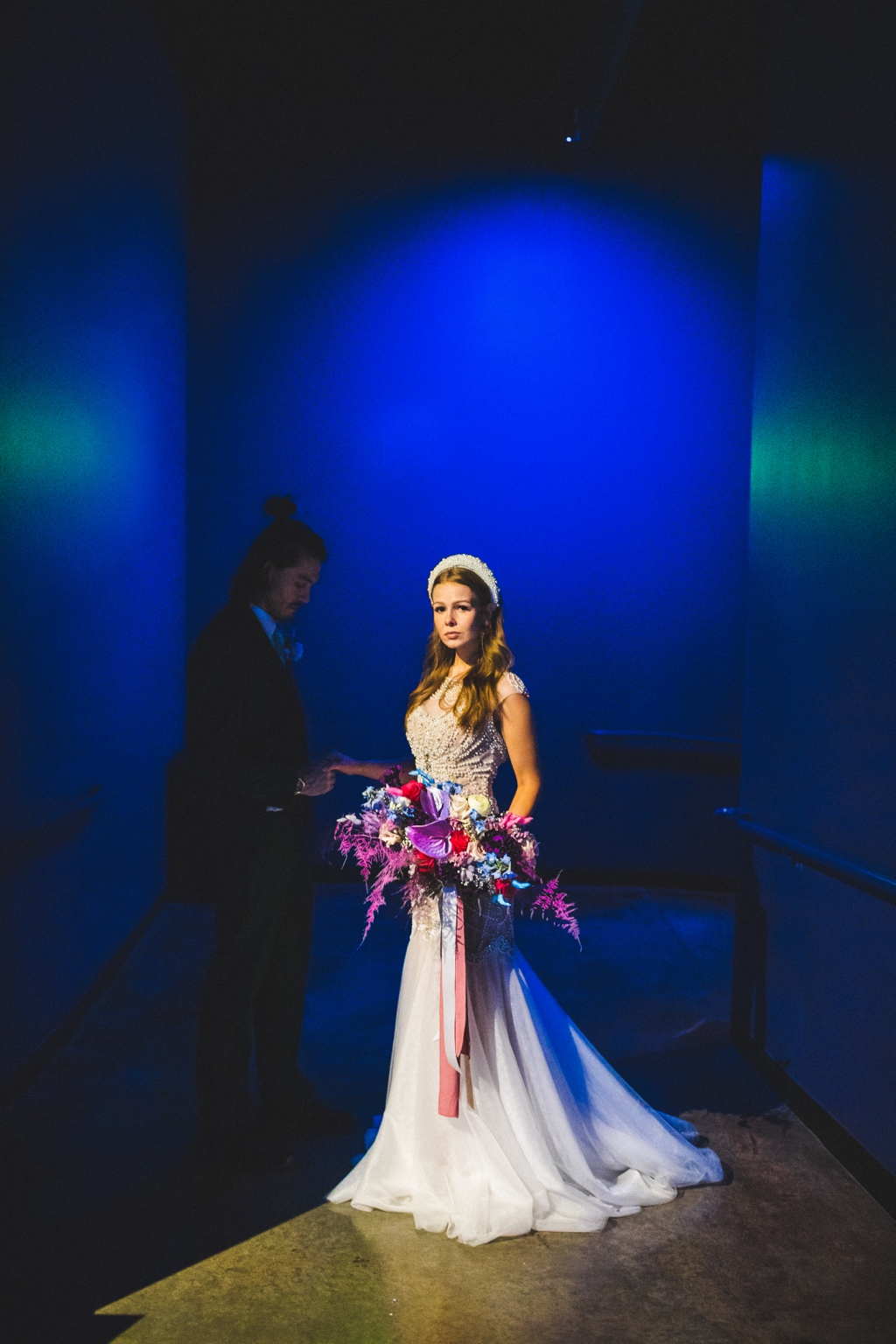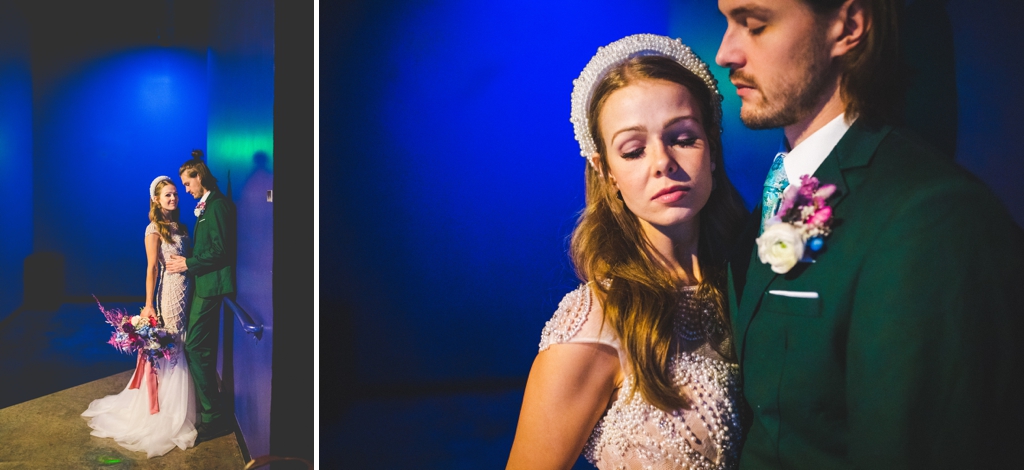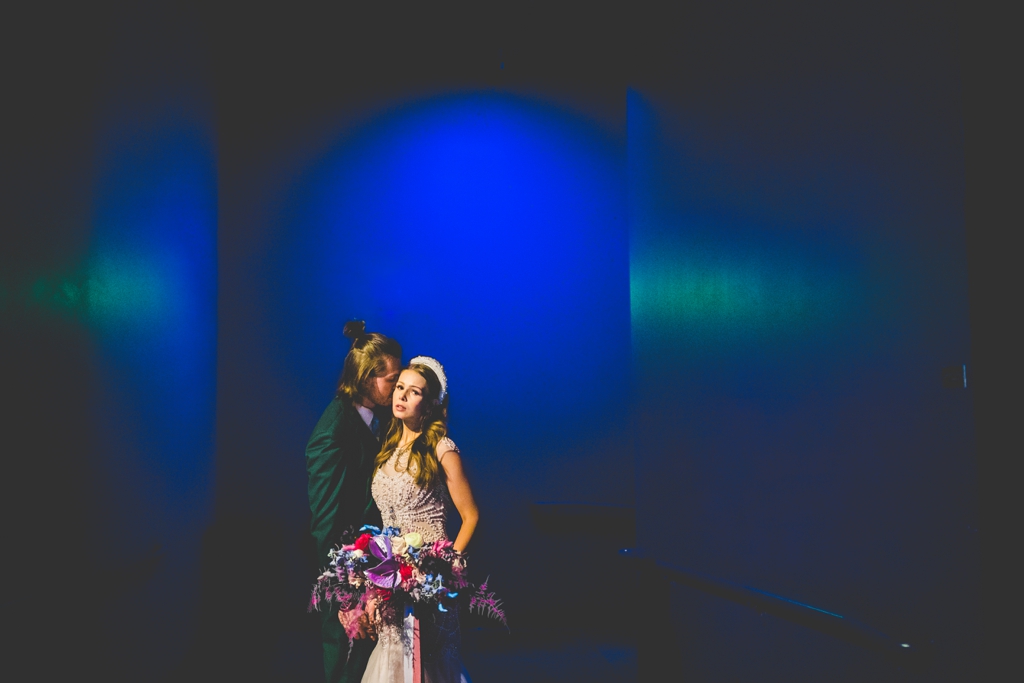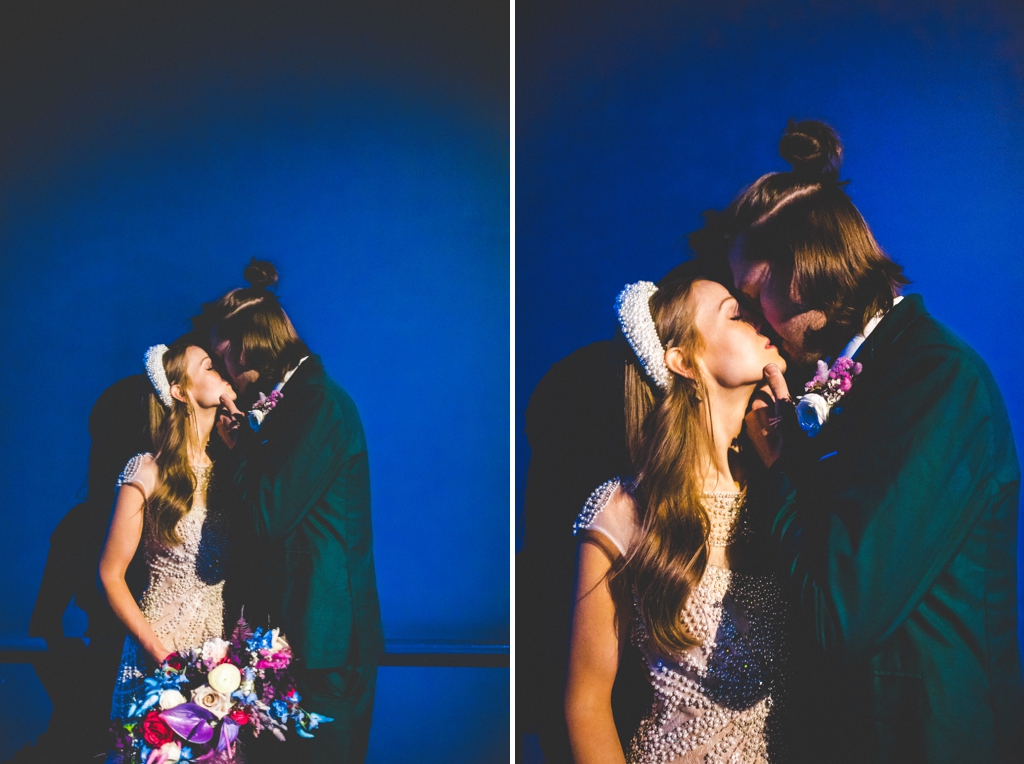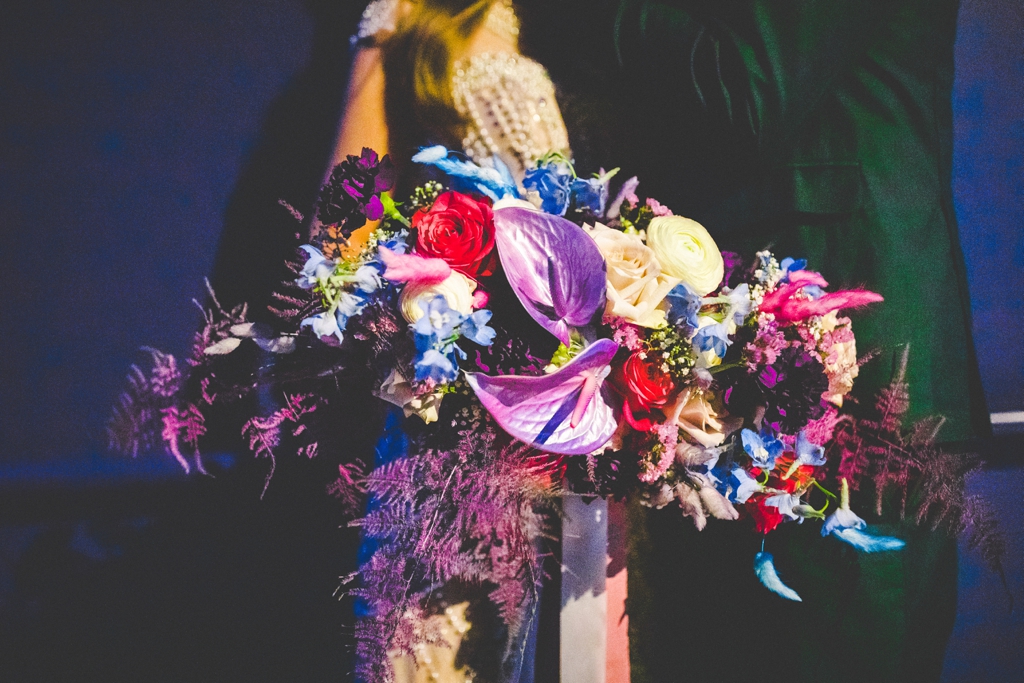 Weddings | Engagements | Seniors | Families | Personal
Based in Fayetteville, Lissa Chandler is a traveling portrait and wedding photographer who shoots all over the US. Additionally, she is the co-founder and owner of Opal and June and the creator + instructor of The Hue of You, an online (and rad!) four week editing course.
Moreover, Lissa loves shooting in crazy light + unique settings to create vibrant photographs. However, she doesn't like using stiff transition words to get a better readability score on Yoast. In the first place, she has a degree in history and has written plenty of stiff papers specifically stuffed with transition words. Furthermore, she's currently writing in third person. To demonstrate, she said what she said, okay? And to clarify? These transitions aren't hoping to up my readability score like I was hoping.
But surprisingly! That last transition worked! We've got a green light!
Inquire About Your Wedding Date + Book A Session With Lissa Chandler Here