Real Talk: Occasionally I do this thing where I sit down and write a billion blog posts in one sitting. Sometimes, the photographs are already finished. Other times, they're not. Most of the time, it's a mix of both – some photographs have been waiting for eons for their blog post to be written, others are still sitting tight in Lightroom – and I sit down and write until I can't write anymore. Tonight, I was totally ambitious. I told Andrew that I was going to write five blog posts really quick (ha!) and then head to bed. The key word here is "write" – when I sit down and do this, I don't plug in photographs or anything else. I sit down, think about where I was when my photographs were taken, and go to town.
Tonight, I've written about Amanda and Daniel's wedding, Alexandra's shoot at the Maude Wall, and sketched the outline for Lydia and Tyler's sneak peek blog post (I never write my Three Things I Loved series in advance but I do outline them before I edit many sneak peeks!). I've written about Jamie and Davis, my morning with Andrew in Vail, and our day at Tibble Fork Reservoir in American Fork, Utah. And now? I'm going to give you the skinny about the odds and ends of our trip to Salt Lake and Denver! It's super early in the morning right now – it's definitely after one but also definitely before three! – and, instead of sitting at my office desk upstairs, I've now switched to my laptop and I'm writing in bed where, it seems, my entire family has crashed (Victoria included!). This is my favorite way to blog. I love writing everything out in a stream of consciousness and I love being near my family so, even though it sounds a little crazy, I'm having so much fun writing these! Hopefully they'll be published pretty close together but you never know – there might be a few other posts peppered in depending on when photographs are edited and put together for blog posts! My website totally takes on a mind of its own sometimes so, for all I know, I'm publishing this in December. Hahaha.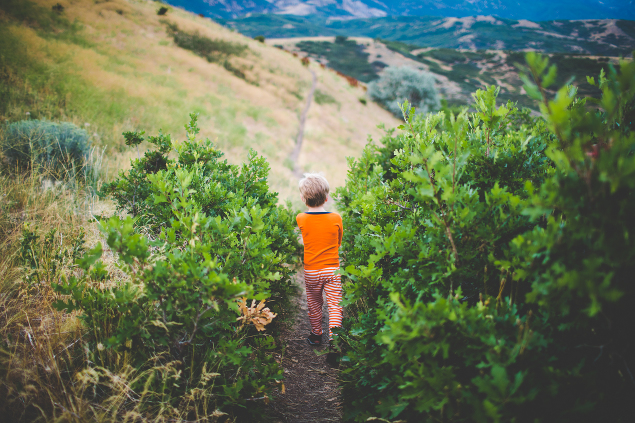 Back to our trip out West! On our first day in Utah, we woke up and headed straight to the Loveland Aquarium in Draper. I've always loved aquariums. I love the lights and the colors and the water and how, even when there's a million people packed into a small space, aquariums still feel peaceful but, mostly, I'm really into the shark tunnels. They are my fave! I did a full blog post about the Loveland Aquarium ages ago so I won't be sharing lots of photographs from our visit in July but, y'all, it was so fun! Henry LOVES aquariums more than most people love cheeseburgers and seeing his face light up at everything made my whole entire week. Ah! Kids are the best!!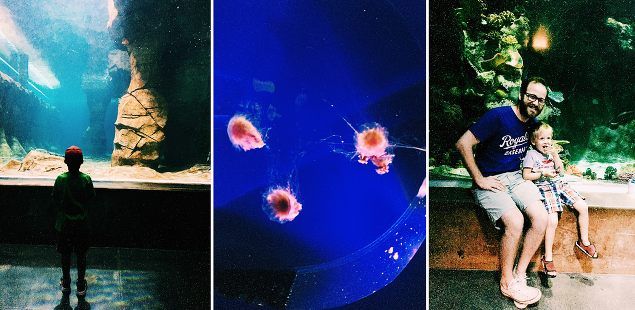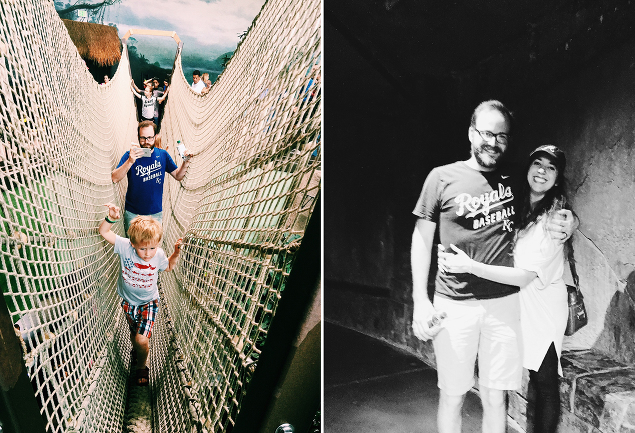 Also the best? All of the food! When we lived in Provo, I loved Kneader's with my whole heart and I was really excited to find out that there's a Kneader's right down the mountain from my in-law's house. I didn't snag a photograph of it (#photographer fail #nottiredofhashtags #oldie) but we got Kneader's TWICE while we were in town and we also started our whole trip off with a trip to Cafe Rio (again, no picture!) so I was basically living the dream. I lived off Cafe Rio when I was pregnant with Maxwell – I vividly remember crying at our tiny kitchen table because I wanted Cafe Rio so bad I could taste it and the restaurant was a thirteen minute drive from our apartment – and, to no surprise, Max chowed down like a boss when he tried their tacos. We also hit up In & Out while we were in town and, on one night, we went on a double date with Matt and Elizabeth to Curry Fried Chicken in Salt Lake City and it was amazing! After dinner, we went to see The Big Sick and it was so good! It's funny – I grew up going to movies all of the time but Andrew and I have probably only gone to see fifteen or twenty movies together in our entire relationship and at least five of those have been related to Harry Potter and Star Wars. We rent movies all of the time – we even have a standing in-home Tuesday night date that we call Take Out and TV Tuesday (classy, right?) but going to a theater has always been fairly rare for us! It feels weirdly adult but also vaguely like high school at the same time. Married life, right?
Ah! And I almost forgot! We had the most amazing Mexican food in Grand Junction – chicken flautas for the win! – and, when we left the parking lot, we didn't see a median and turned left into a one way. We were fine – luckily no cars were headed our way! – but Andrew says we can never go back to the restaurant in case they recognized us him and his creative driving skills.




My in-laws have the most incredible pool in their mountainside community. The pool has slides and a lazy river and a splash pad (right?!) and we spent a full afternoon there where Max went on the slide five hundred times and Henry got unintentionally sucked into the lazy river at least three times. Once we were done swimming (and by "we were finished", I mean me and Andrew because our kids are little fish who think they belong in water at all times), we went back to Mom and Dad's house for a cookout! I made the macaroni and cheese (I make a mean macaroni and cheese, y'all!), we demolished a box of grapes, Max had the time of his life roasting a hot dog, and everyone had the best time eating s'mores. The view from Andrew's parent's house is so lovely and, after dinner, we went hiking on some of the walking trails and Henry gave me, like, eight heart attacks which, to be fair, is pretty par for the course even if we're just hanging out in our pajamas at home. That kid!!
Sidenote: I can't decide if this photo of Huck eating s'mores is super cute or super not-cute! Ha!




I'm going to end this blog post with a photograph of the boys and Andrew's mom because they are adorable. Thanks for all you do for us, Mimi! We love you so much!




Weddings | Engagements | Seniors | Families | Personal
SaveSave
SaveSave