When I was twenty, I worked in the cutest shoe boutique in Salt Lake City.
The store sat in the middle of an upscale, outdoor, downtown mall and the storefront was floor to ceiling windows. The store had a green couch shipped straight from France, a gaggle of super girly employees, and, basically, it was a twenty year old shoe lover's dream. I mean, the girl I replaced knew Jared Leto! And the girl who was hired right after me? She was signed to the same modeling agency as Paris Hilton! While working there, I made awesome friends, heard amazing gossip, sold a crazy amount of shoes, spotted two celebrities, ate a billion rice bowls from Rumbi's, and, best of all, I fell flat on my face in love with a pair of knee high leather boots. And those boots? They were teal.
I never saw the boots in the back of the store so, the day the went on display, I walked in, stopped in my tracks, backed up a bit, and picked the boot straight up. The boots had a four inch heel, a zipper on the inside, tops that hit that magical place between the top of your knee and mid-thigh and, as soon as I saw them, I was a goner. In those days, I wore four inch heels every single day (side note from my thirty-one year old self: hahahahaha) so, while the shoe looked a smidge intimidating at first glance, it wasn't anything my feet weren't already used to walking around in and it was love at first sight. I'd met my shoe soul mate! My soul mate's price tag, however, made my knees buckle – and not in a good way. Even with my employee discount, they cost more than a week's worth of salary and, after thinking of ways I could afford to not eat that week, I put the boot back on its shelf and slowly walked away.
And then? Then!! The boots kept flying off the shelf! Three hours into my shift, we'd sold the boots several times over and, the more I sold the boot, the farther in love I fell. And then? Then!! A woman walked in, asked for a size six, and walked around in the boot for ten minutes, totally undecided. In the end, she said she'd come back for the boots soon but, y'all, I couldn't take it: I bought the (last!!) size six for myself instead. I mean, what was I supposed to do?! They were my shoe soulmate!!
For the past ten years, the story of my teal leather pirate boots has been my tried and true shoe love story. I loved those boots so hard that they totally wore out in less than two years and, until last week, I thought that shoe love could, like, never be topped. I was wrong.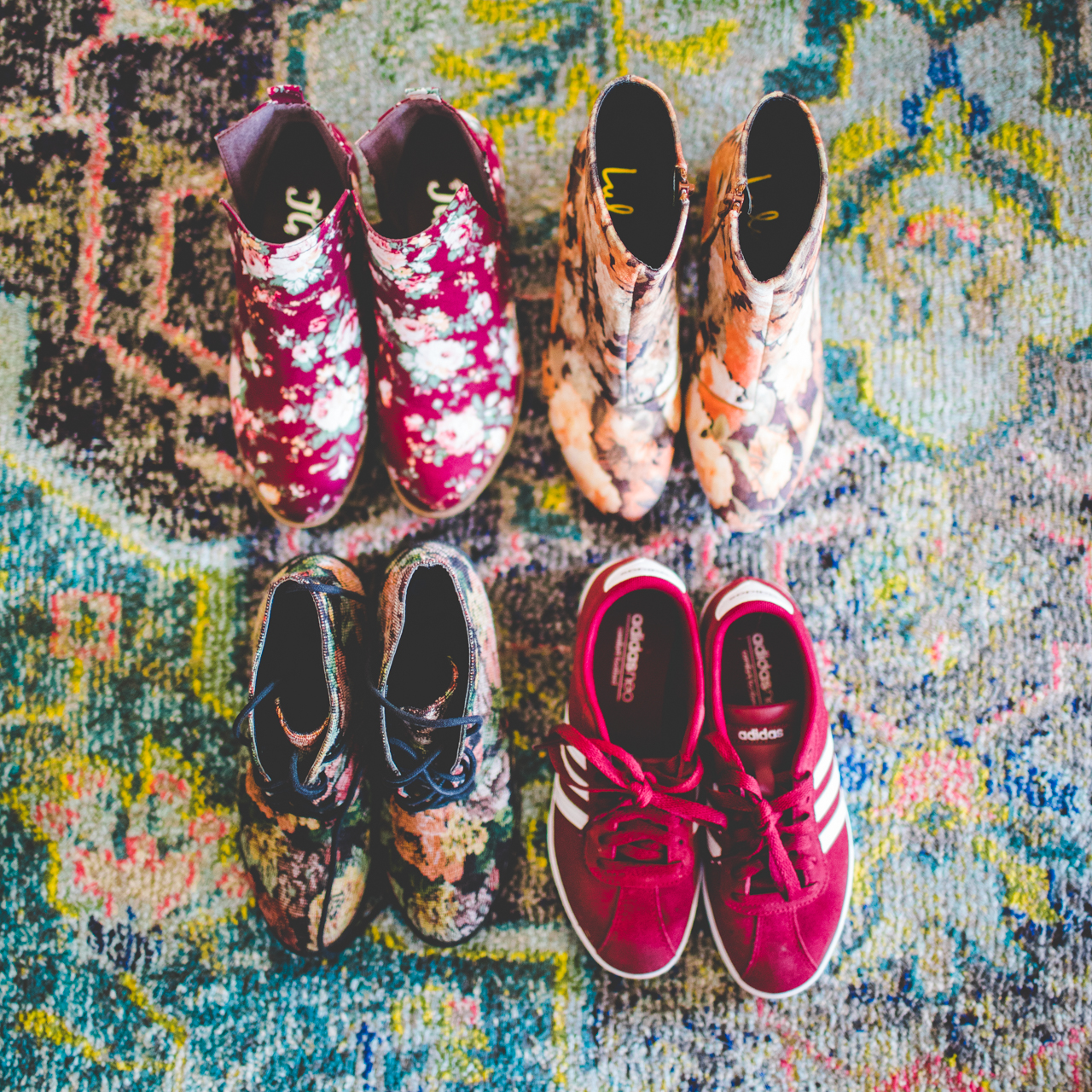 Can you even believe these beauties?! Floral boots are in and I AM HERE FOR IT!!
I love boots (obviously) and, as a wedding photographer, I keep a good three or four pairs in rotation at all times – they are the best to shoot in! – and, even with this rotation, I often wear my boots all the way down until there are holes in the soles. I have brown boots and blue boots and gray boots and green boots and tan boots and brown boots and, as of last week, I have floral boots, too!
Here's the skinny on these fantastic beauties! They are the best!
The burgundy floral boots are from DSW (they come in like five other colors and I'm totally tempted to scoop up a few more pairs!), the velvet boots are from LuLu's, the carpet boots (don't they look like they were made from a rug or vintage sofa?) are from Poshmark and the Adidas – which have no purpose here except to offset my burgundy floral boots – are from DSW, too. I stumbled across all of these gorgeous shoes last week while shopping for my birthday and, y'all, when I saw them I felt just like I did when I saw my teal pirate boots: totally and completely, wildly in love. How could I not be?! They are awesome and they have me so excited for fall. Come on, cooler temperatures!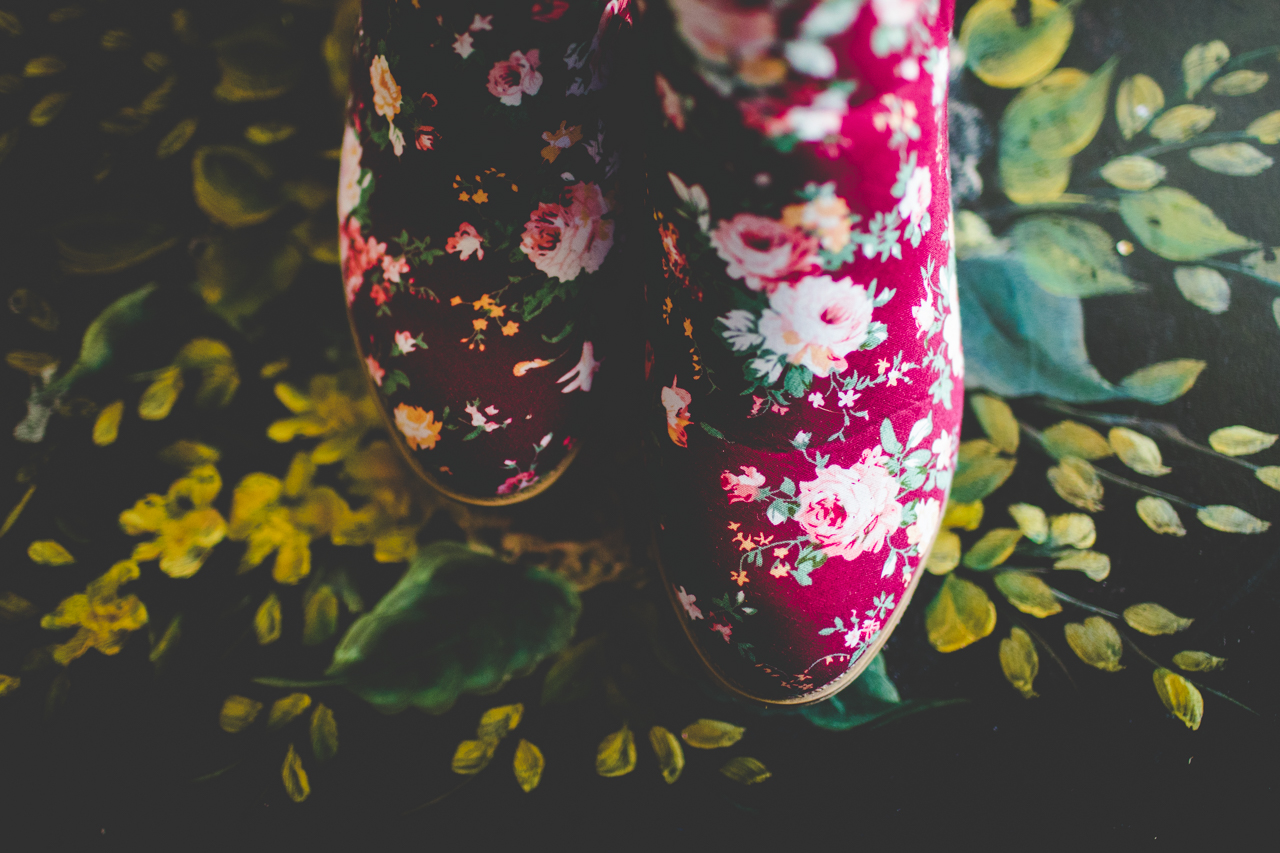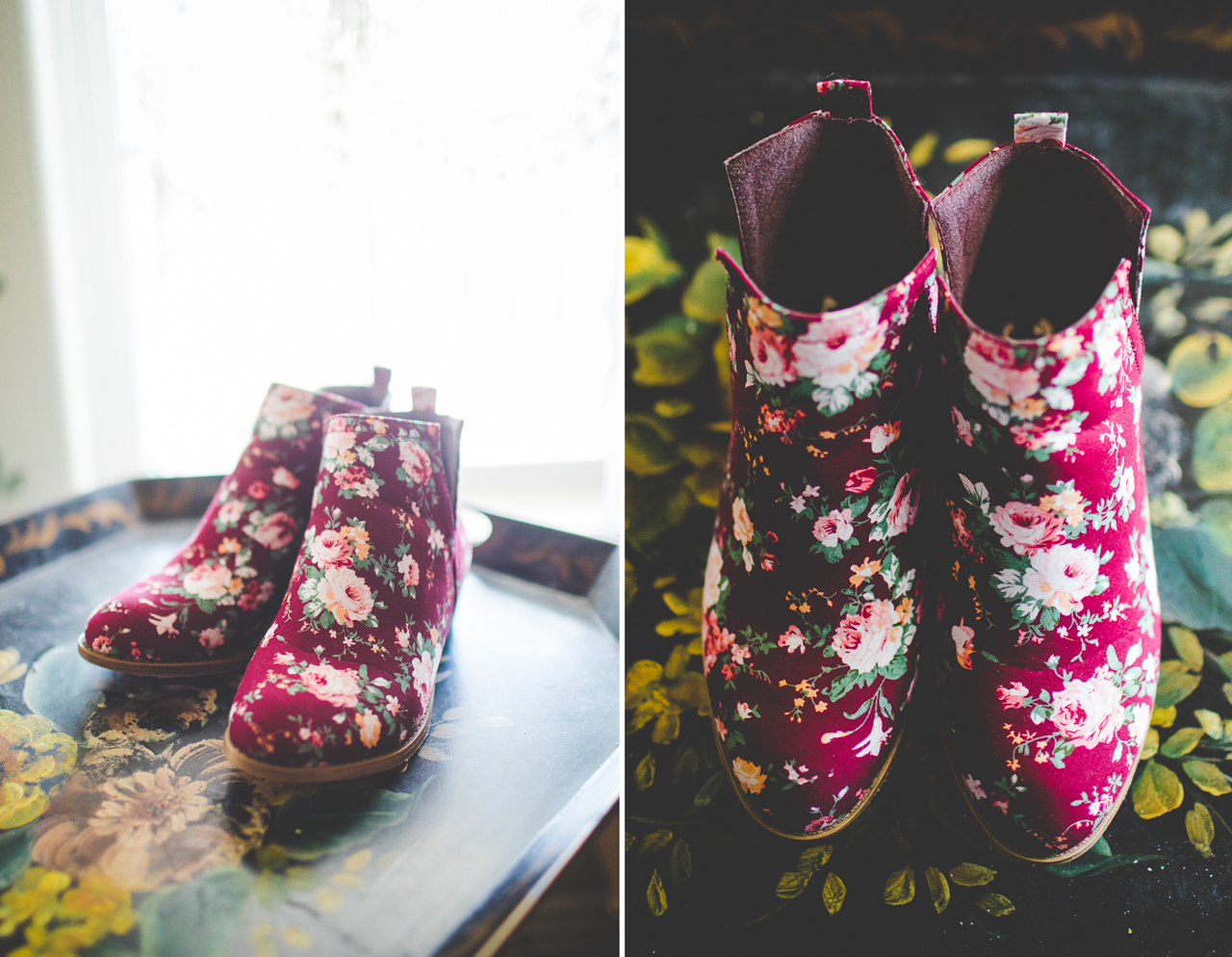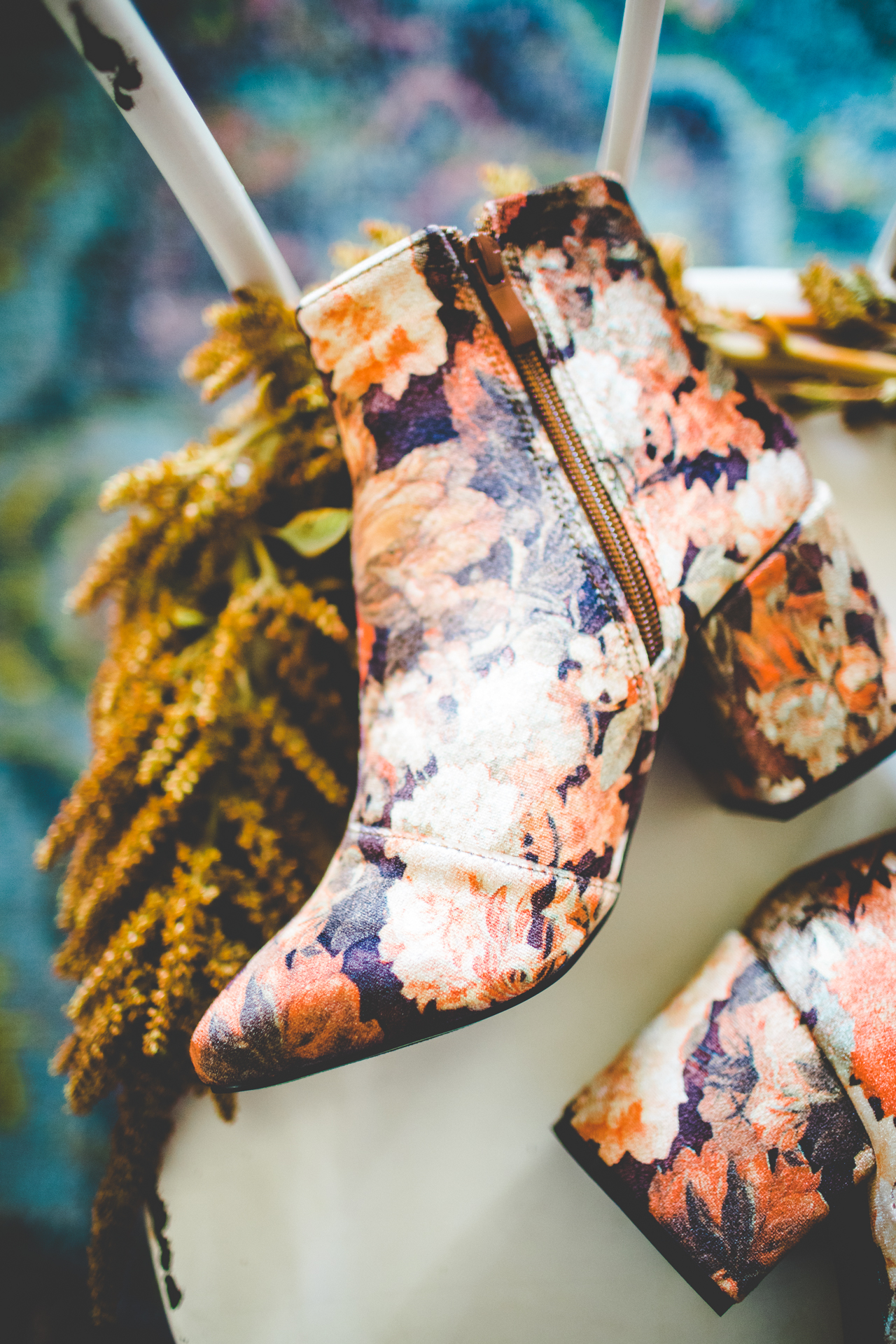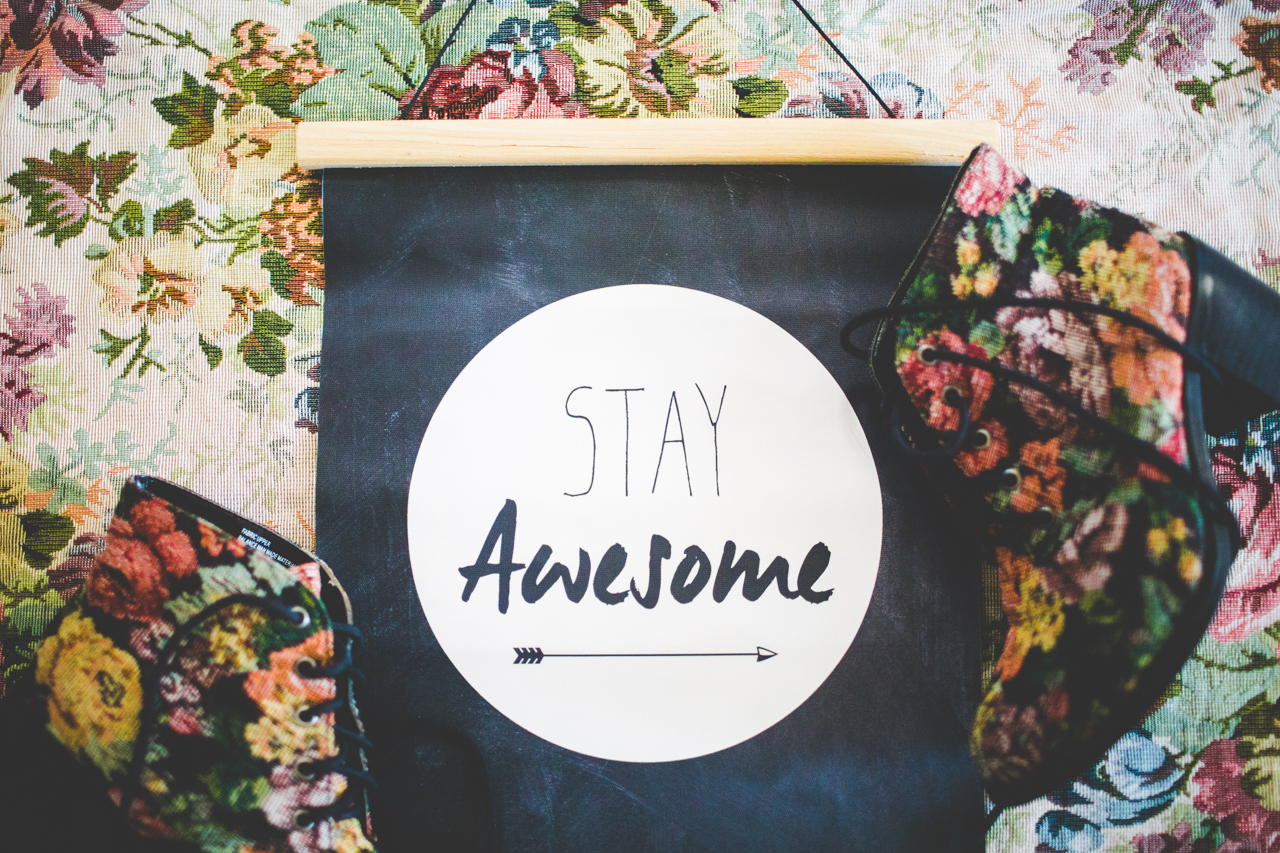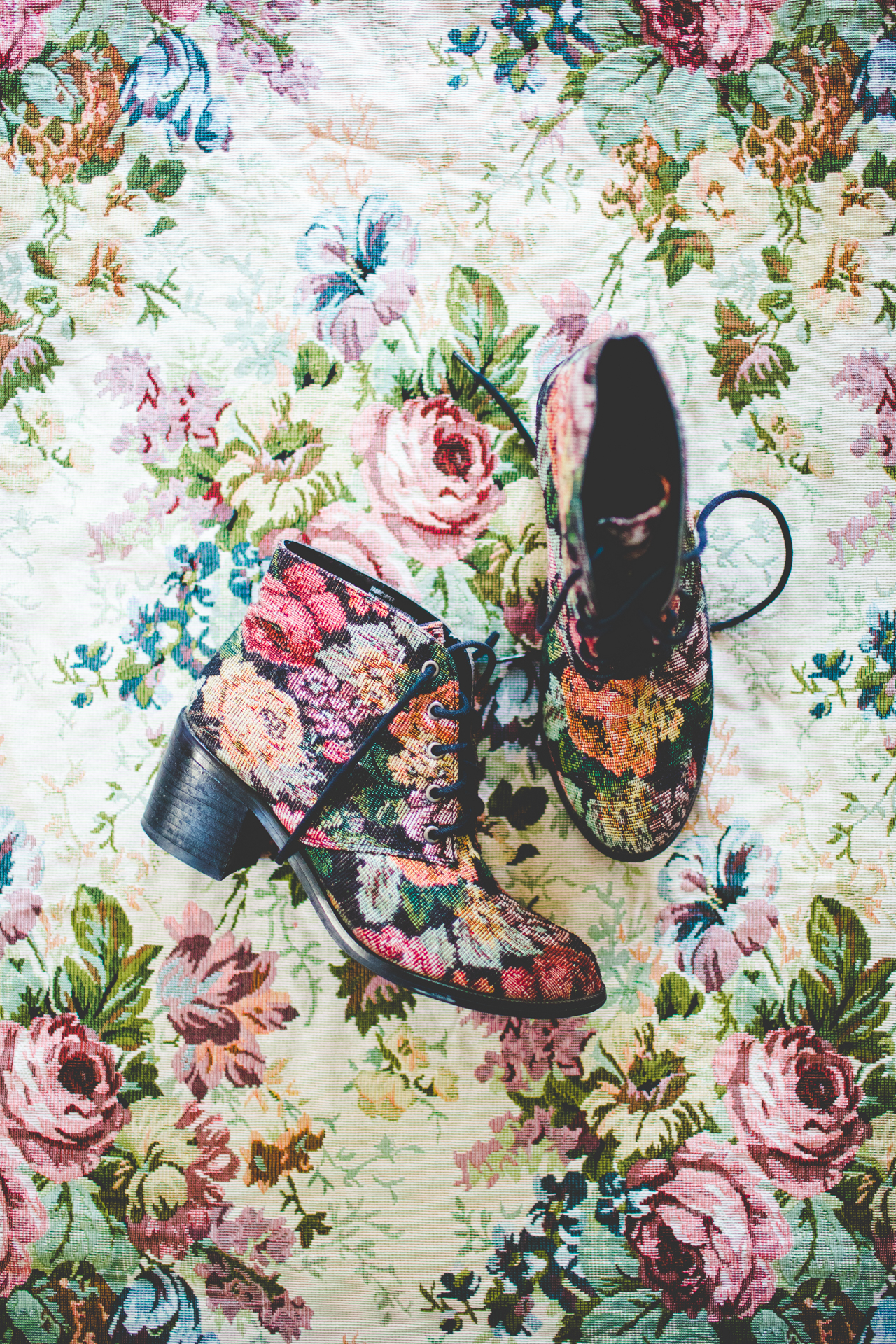 I told Andrew that I am going to ride this floral boot trend as long as it's going – and longer! – so I've already compiled a wish list for my next floral boot purchase and I couldn't keep it to myself. I mean, with shoes this pretty, who wouldn't share?! Here's a few of my current faves!
Target: Embroidered Velvet Bootie ($37) // Brocade Booties ($37)
DSW Online Store: The Most Magical Blue Velvet Floral Boot ($79) // Burgundy Single Flower Boot – Melky Bootie by Catherine Catherine Malandrion ($119) // Rocket Dog Chunky Boot ($59) // Betsey Johnson Twiggy Bootie ($79) // Indigo Rd. Verily Chelsea Boot ($59)
Amazon: Unionbay Purple and Blue Boot ($23) // Red and Black Embroidered ($49)
The Brocade Booties are actually the boots that led me to search online for other floral boots. Lauren and I saw them while growing Target a few weeks ago and, when I breezed by them, I made a sassy joke about how they looked perfect for Louis the Sun King or an 80's singer but, as soon as the joke came out of my mouth, I started looking for my size. I haven't bought these ones yet but, for my next shoe purchase, I'm hoping to snap up the brocaded Target boots or the red and black embroidered Amazon boots. They're both so lovely and I so love that we are living in a time where basically everything goes when it comes to fashion. These floral boots, y'all!! They are so fun! Get some!!
Also, this happened when I took photographs of my shoes the other day. You're welcome.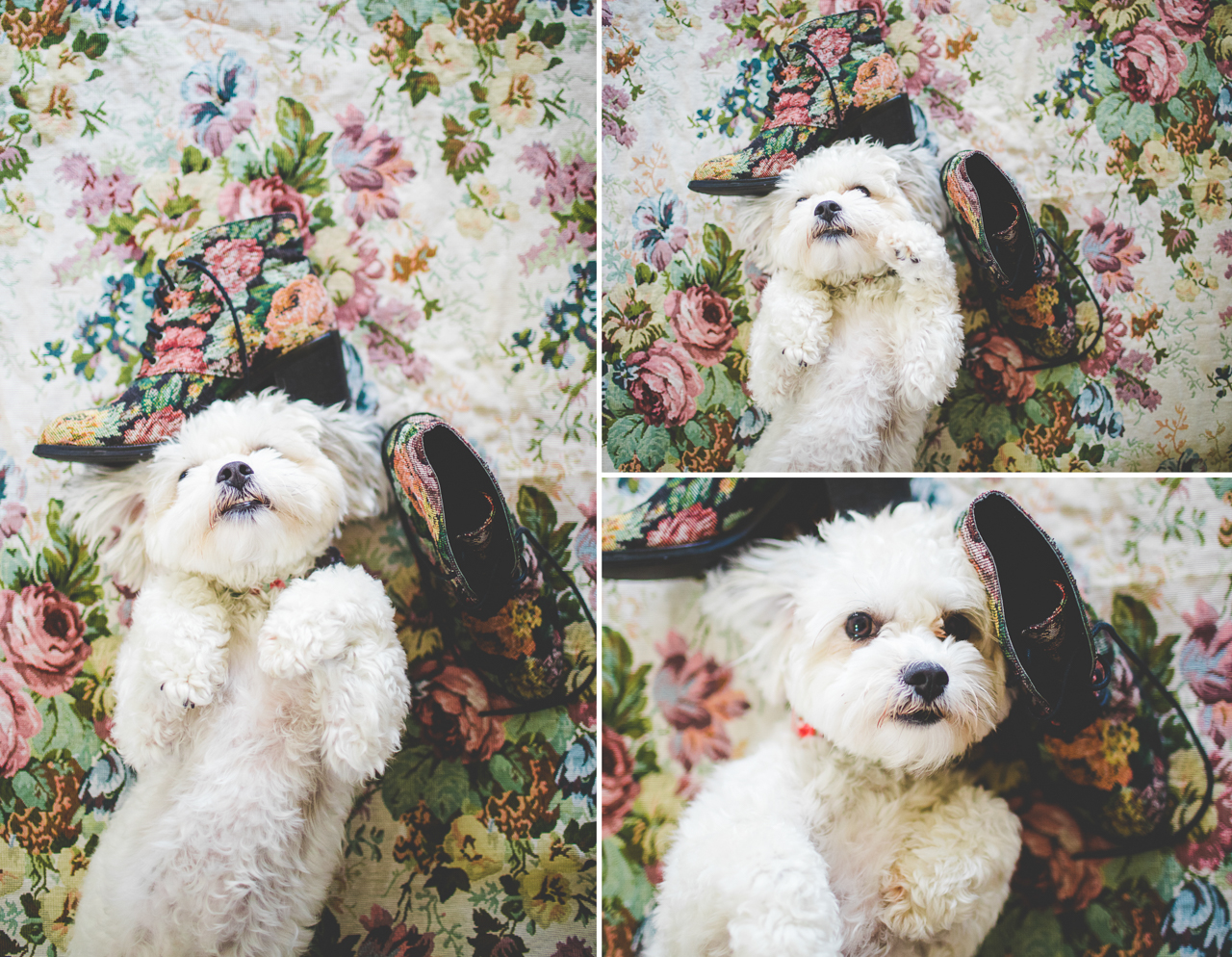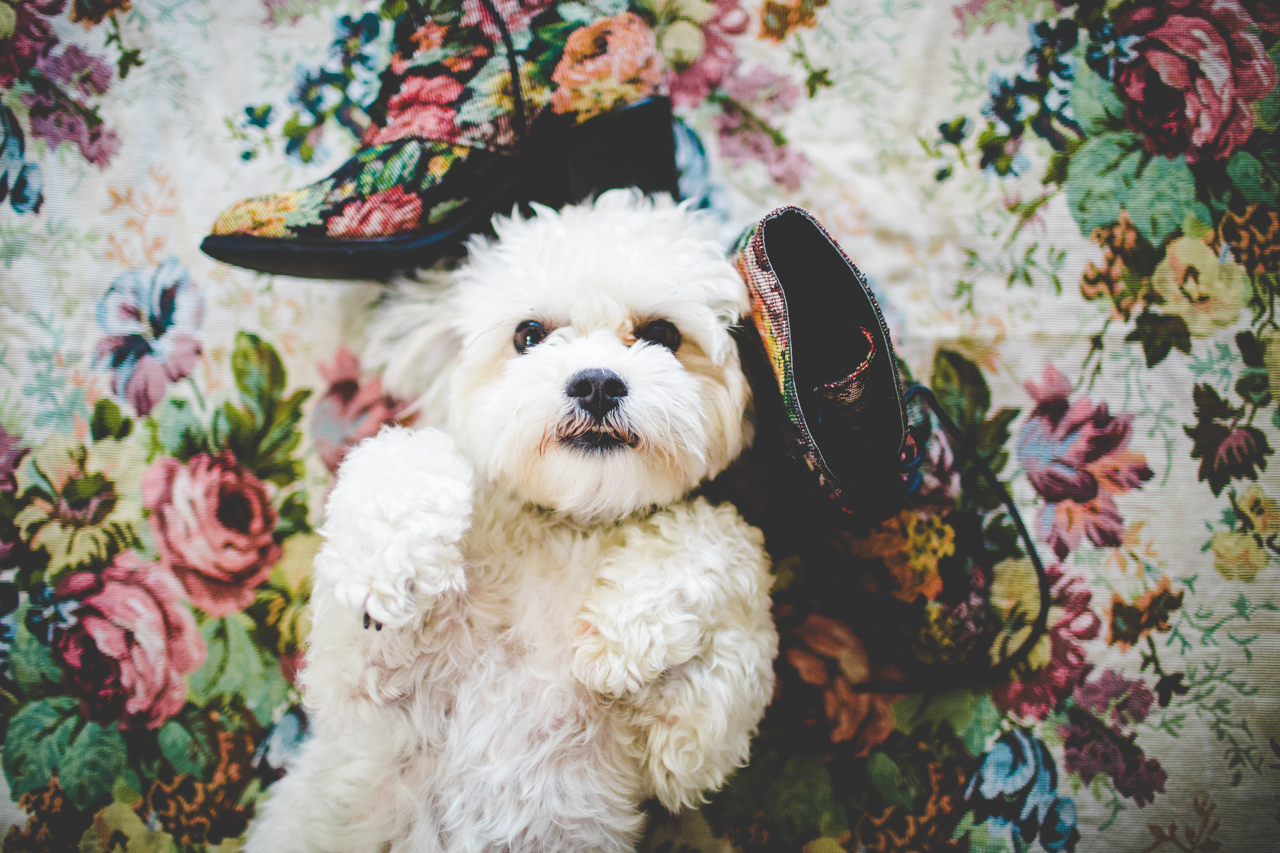 Weddings | Engagements | Seniors | Families | Personal