Remember how it snowed like crazy earlier this month?
Well! After a long day of cabin fever, I stuck my engagement ring into the snow and photographed this: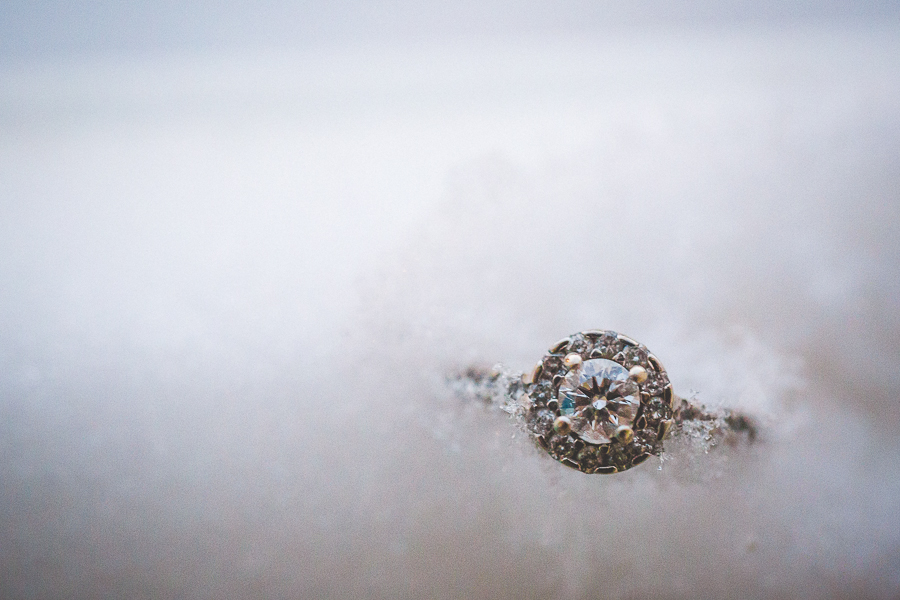 When we got married, I declined having my wedding ring photographed because, at the time, I thought it seemed kind of silly. I was going to wear my wedding ring every day so, in my opinion, I really did not need a photograph of it, especially not one of it artfully placed on a teacup or a flower or a bit of pretty lace. But then! I had two babies and developed a wicked allergy to my ring and, honestly, kind of wished I'd had had those photographs taken. Luckily, though, in an awesome twist of fate, I became a wedding photographer and realized that I could take a photograph of my ring myself!
Moral of the Story: Don't forget to have your ring photographed on your wedding day (or during engagements!).
Second Moral of the Story: If you forget to have your ring photographed, become a wedding photographer so you can take one of your ring yourself. Sure, I was a June bride and it was over 100 degrees on my wedding day but I absolutely love this little gem of a photograph. It was totally worth frozen toes since, naturally, I stepped onto my porch in the middle of snow and took these barefoot. I did live in Utah for four years, after all.
And I think that's enough rambling for now.
PS. This post was part of a wedding blog circle (I know! Two blog circles in two days! I am certifiably crazy!) so go and check out Lisa's gorgeous work right here.
———-
* Lissa Chandler is a creative portrait and wedding photographer in Northwest Arkansas who specializes in newborn, family, senior portrait, and wedding photography. Lissa currently lives in Fayetteville with her family: a husband who looks super cute with his new haircut, a three-year-old who has decided that his parents' bed is his bed (and, let's be honest, it totally is), and a one year old who is getting so cute and chubby that his face is shaped like a square. Lissa is available for travel nationwide. *
Newborn and Family Gallery | Senior Gallery | Engagement Gallery | Wedding Gallery
Like LCP on Facebook | Lissa Chandler Photography on Google Plus