When you're a wedding photographer, the scariest type of light is this: No Light.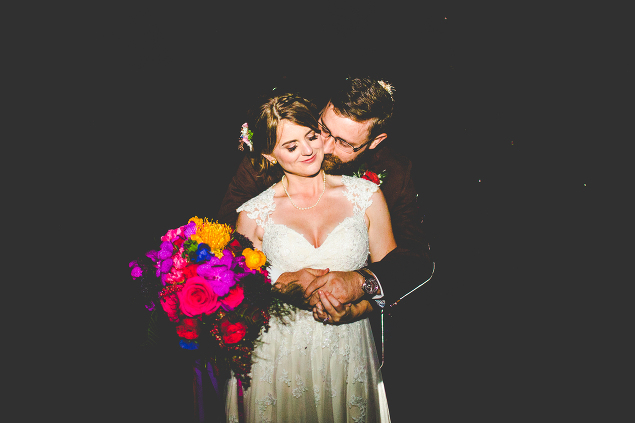 I vividly remember the very first time that I shot wedding photographs in the dark. We only had a few minutes, the sun was completely gone, and, during those few moments, I thought quicker on my feet than I had ever thought before. Shooting in the dark was such a challenged and I loved it.
From there, I became more and more interested in different kinds of light. My favorite kind of light has always been aquarium light. I know that sounds weird but hear me out: I love aquarium light because it has movement. The light flows and the colors shift subtly and, while I love seeing otters and bright colored fish and shark tunnels as much as the next person, I mostly love aquariums because the lighting is magic. When I became a wedding photographer, I'd already mastered natural light and I knew the basics of on-camera flash but, honestly, that was it. I didn't think much of ambient light or available light and, aside from using the flashlight on Andrew's phone to illuminate rings every now and then, I kept things pretty simple. And then! When I photographed Sarah and Brad's portraits in the dark, I realized that there was a whole new world of light out there. The discovery was amazing!
In late 2014, I started exploring all kinds of light. I made uninhibited decisions to embrace the feel of wherever I was shooting and I ditched my preconceived notions of when I needed to use flash and when I could shoot with no flash and, honestly, everything just became more intentional. I photographed people in front of car headlights. I photographed people under street lamps. I photographed people with video lights and candle light and, eventually, I decided to learn how to take photographs in total darkness – not the kind of dark where it's kind of sort of dark but the kind of dark where you have to turn your phone on to see anything ahead of you, the kind of darkness where you can barely see your hand in front of your face and the kind of dark where you never, ever would think to take a photograph. And y'all? It is so much fun and it changes EVERYTHING!
Let's talk how to take this photograph!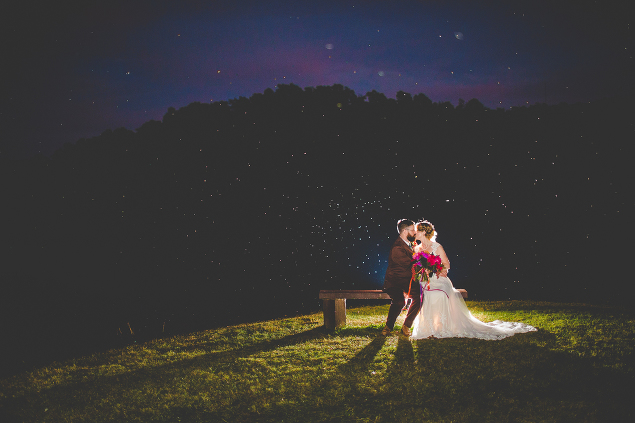 This photograph was taken in the last few moments of dusk – that moment when the sky is slightly illuminated but you can't see anything around you without a flashlight and it feels cozy and warm and romantic. Anna and Jimmy had the most amazing sunset ceremony on Lake Wedington and, when I took this, I gave them my standard I'm-about-to-take-photographs-in-the-dark speech that goes like this: "These photographs are going to take a little longer than any other photograph we've taken so far and there's not going to be as many keepers but the keepers will be amazing!"
I give this speech for two main reasons. First! I am a speedy photographer in 99.9% of circumstances. I am not speedy in the dark because photographs like the one above are a team effort: Andrew sets up the back flash and we move things around and adjust until we are good to go. Second! When I take photographs like these, I can't actually see the people that I am photographing and, because of this, I can't see expressions and can't always see body language, either. I have to take one or two (sometimes three or four or five or six!) before we are ready to really start shooting and, the faster the sun goes down, the darker it gets and the more I have to fiddle with my setting to capture nightfall. Photographs like the one above are a sweet spot – it was totally dark but the last remains of dusk could be brought back in post. When I shoot night photographs, I like to start halfway through dusk. That way, we can get fading sunset and photographs in total darkness and it's amazing. Photographs like this add such a punch to wedding galleries and they are so challenging and rewarding awesome.
Here's some flash details! For this specific photograph, Andrew set the flash two feet behind Anna and Jimmy. The flash was pointed towards them at a 45 degree angle and, on my camera, my flash was pointed behind me at a 45 degree angle so that it could bounce off of a large rack of canoes several feet behind me. I stood halfway behind the canoe rack and Anna and Jimmy and, with a flash power of +1 for both the Master (on camera) and Slave (off camera) flash, I was able to create this photograph. Since it was too dark to grab focus, Andrew used his iPhone flashlight to illuminate Anna and Jimmy's faces and, from there, my camera easily grabbed focus and the photograph came out beautiful!
One last note! Do not expect nighttime photographs to look amazing straight out of your camera or right off the bat. I often have to paint my photographs with brushes when they are taken at night. When you take these, it's best to err on underexposure rather than overexposure. If you overexpose, the photographs will look harsh instead of dreamy and pretty and lovey-dovey. Remember – with flash like this, you can shoot at a super low ISO and that's going to give you a ton of wiggle room for edits! Also, these take a LOT of trial and error and sometimes my favorite photographs don't look so hot when I first look at them on the computer. Don't be discouraged if you try to take nighttime portraits and nothing turns out the first few times and don't be afraid to get creative to learn! I taught myself this technique in a super funny way: I turned off all the lights in our apartment, made Andrew sit on the couch, and then photographed him for hours until I felt like I had a handle on what I was doing. Have fun with it, y'all! Shooting in the dark is the most freeing technique I have ever learned and I know it will be for you, too! It's such a blast and it always makes me feel like a boss.




Weddings | Engagements | Seniors | Families | Personal
Lissa Chandler is a creative wedding photographer in Fayetteville Arkansas who loves bright colors and awesome light. Lissa lives in Fayetteville with her awesome family: a Mountain Man of a husband (y'all – his beard has gotten HUGE!), a bookworm of a seven year old, a five year old who wants to be a spy, and the two cutest fluff balls pups who want to party all the time.


SaveSaveSaveSaveSaveSaveSaveSave
SaveSave
SaveSave