Okay! You're right. The title of this blog post is a little misleading: These are the most colorful photographs you'll ever see of a black wedding dress but mostly I said that because I'm 185% obsessed with the bouquet we used for this styled session we did in October. I mean, come on!!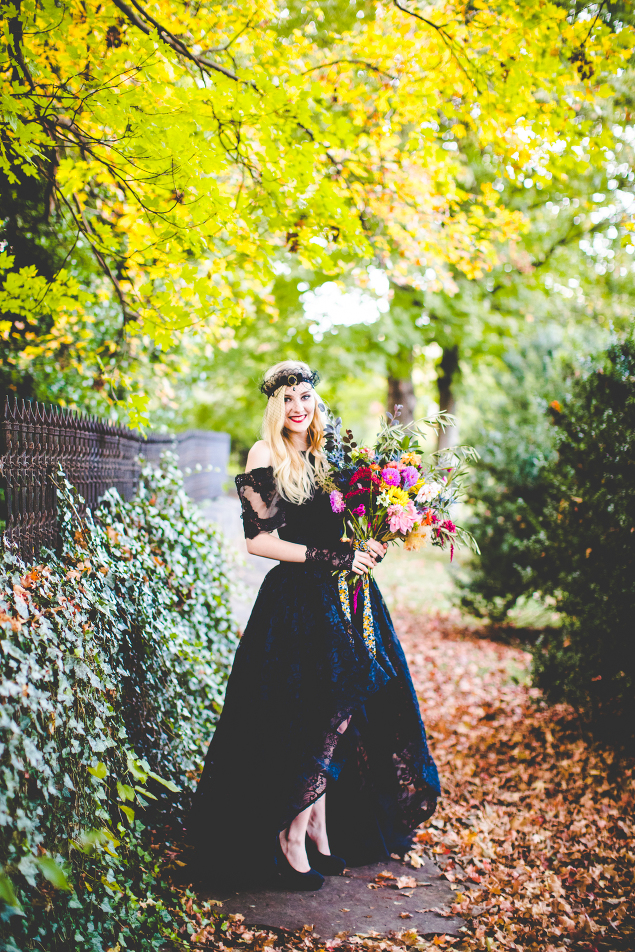 Right?! And here's the part where it gets even more interesting (awesome? cool? surprising?): I made this bouquet but Andrew picked out all of the flowers. Meaning, while I sat getting coffee with Kristen and Lauren one afternoon, Andrew hit up three different grocery stores so that I could make a bouquet before I went out to a double header shoot on a Thursday afternoon. I've never been one to really double up shoots in one day but, this past October, it happened super frequently – one shoot would start at 2:30 or 3:00pm and the next would start at 4:00 or 4:30 – and it was way more fun than I anticipated. I expected it to be overwhelming but honestly it was actually pretty dang awesome.
I photographing this bridal session the same day that I photographed Canem's family photographs (see her 2016 family photographs HERE –  the ones from this year aren't up yet!) and it was so much freaking fun to photograph a wild family session (all of my family sessions are fairly chaotic but, at this one – spoiler! – I ended the session with two boys throwing their stuff animals straight at my camera and it was amaaaaazing) to a super unique editorial session with lots of unique details and lace. I stumbled upon this dress in August and, when I saw it, I knew I had to do a shoot with it and Destiney made the perfect model! She was so fun to photograph, somehow managed to stand for, like, ever in six inch heels, and was just a total gem all around. Initially, I was going to super dark with the bouquet but I just couldn't – I told Andrew to get all the brightest flowers instead and I love the juxtaposition of the dark dress and gothic headpiece with the overly bright flowers – just like I love the dark green trees and gothic type fence combined with the bright sun that peaks through some of these photographs.
Here's the photographs!! I was genuinely sad when we wrapped this session up – it was so fun to shoot! – and Destiney did such a killer job modeling. Loved shooting this and I hope y'all love the photos! I totally busted out my underused 45mm tilt shift for these and love the results so much!
P.S. For the camera lovers! The photographs at the end of this post were taken at an ISO of 6400. I have conflicted feeling on my Mark IV but dang! It handles high ISOs like such a boss!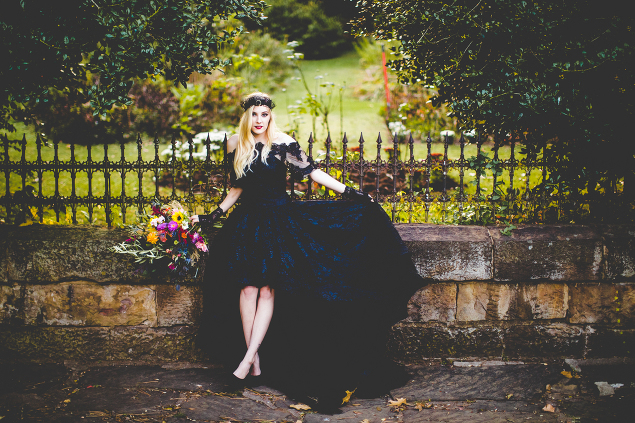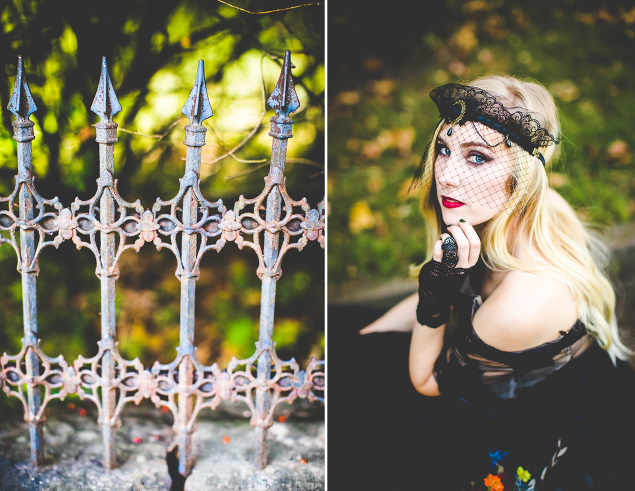 Weddings | Engagements | Seniors | Families | Personal
Inquire About Your Wedding Date + Book A Session With Lissa Chandler Here
Lissa Chandler is a bubbly wedding photographer in Fayetteville who loves bright colors, crazy headpieces, unique wedding gowns, and people with huge hearts that just like to have fun and celebrate life. Lissa's been published nationwide in photography magazines and celebrity magazines (what?!) but, wherever her photographs land, they're bright and happy and so full of spunk! 


SaveSaveSaveSave
SaveSaveSaveSave
SaveSaveSaveSave